Before we put 2021 behind us, let's take a look at the top header bidding networks.  Looking at our data from last year, we analyzed the top networks across various criteria.  There is no one size fits all, your header bidding stack will depend on your traffic and revenue objectives.
When considering each network, take into consideration the various criteria (device, GEO, verticals, etc) which drive your business.  Below we share an evaluation of the header bidders that ran on our 800+ sites in 2021.  Given that Google Adx (and Google OB) is the dominant component of a strong header bidder stack we have left this out to better focus on the others.  We have broken out our analysis by the criteria that should influence selection.
Device – Mobile, Desktop, Tablet, CTV
In a shift from last year, there is a greater distribution of revenue across the networks. Though Verizon and Appnexus continue to lead the pack, their overall share is decreasing. 
For Desktop, Verizon and Appnexus lead market share with 30%, and you should look to include 33Across and Pubmatic as well.  For Mobile, look to add Yieldmo, 33Across, and Amazon.  If your site has significant Tablet traffic, Verizon, Appnexus,  Amazon, AdaptMX, Yieldmo, and Sharethrough make a solid stack. 
For CTV, Verizon and AdaptMX should lead in your demand stack, as they provide 60% of the revenue in this evolving segment.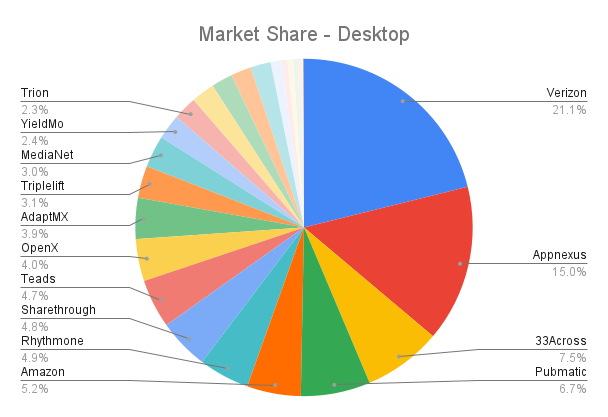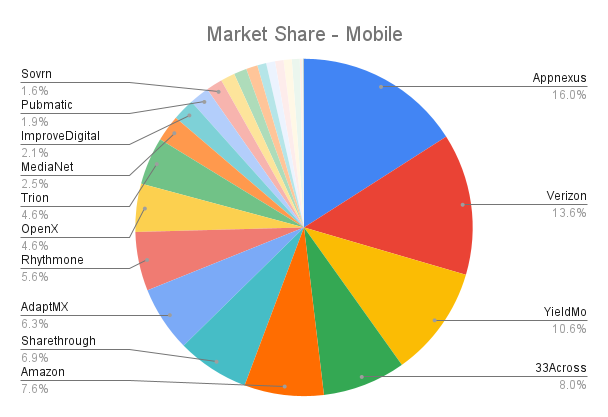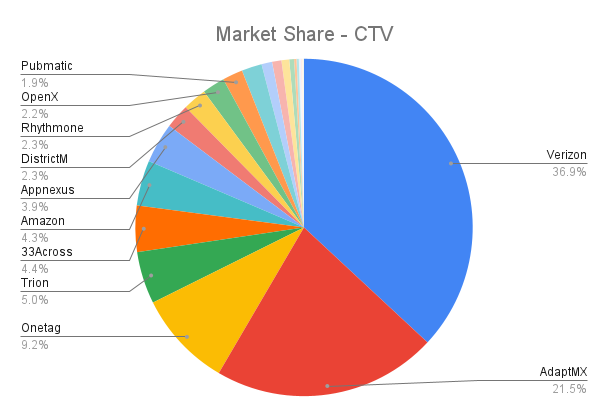 Geo
The above charts reference worldwide traffic, the United States market share is similar.  Below you will see that your US stack should include the top 3-4 networks: Verizon, Appnexus, 33Across, and Yieldmo.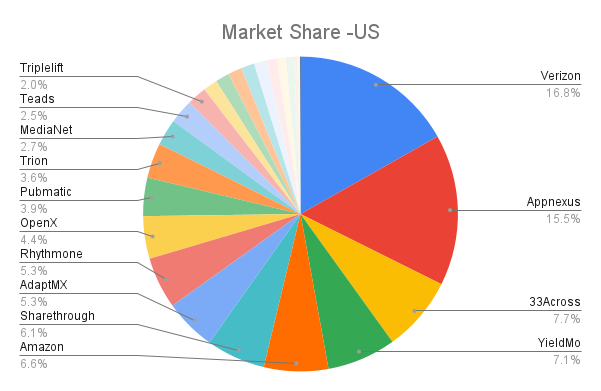 European sites should start with Appnexus, and also consider Pubmatic and Verizon to complete your stack.  Onetag is also strong in Europe, and particularly strong in Italy and Spain.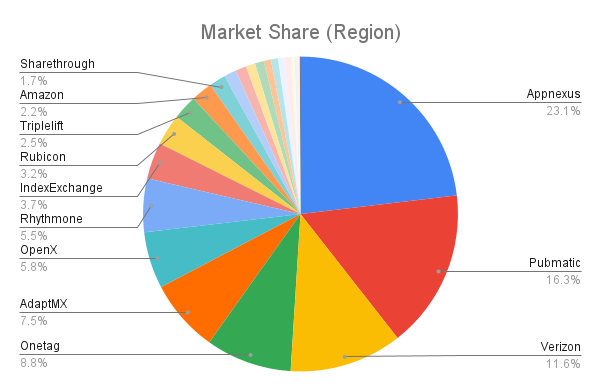 Asian publishers should run the traditional stack: Appnexus, Pubmatic, AdaptMX, OpenX, and Verizon. Australia's prime stack is similar to that of the US, just remember to add AdaptMX, and Amazon in place of 33Across and Yieldmo.
Video
Having grown from its nascent stages, video header bidding significantly improves publisher yield.  Our publishers have seen video yields 2x and more when they move from VAST waterfalls to header bidding.  Not only are the revenues better, but integration is also less complex, more manageable and multi-integration header bidding strategies greatly improve yield.  Strong players in the video stack are Appnexus, RhythmOne, and IndexExchange.  
Prebid or OB?
Most networks take a larger volume in prebid but we do see some CPMs in OB to be quite strong. And there are a few networks that still perform better in OB.
Prebid Client or Server to Server (S2S)?
As we have mentioned in previous articles, in order to optimize, we strongly recommend a hybrid header bidding set-up.  This will optimize demand while preserving page speed and thus, user experience.  For this reason, Adapex has built this capability into our custom wrapper.
S2S is still behind client-side implementation in terms of revenue share. But we see that CPMs are starting to catch up. Appnexus is particularly strong in server-side revenue, followed by Pubmatic and Adaptmx.   Overall, Client-Side takes about two-thirds of all inventory, but adding server-side, in addition, is a great way to improve competition, bid density, and thus CPMs without compromising site speed.  
AMP Leaders
AMP revenues can easily double through the introduction of header bidding.  As AMP only runs S2S, you are limited to enabled prebid bidders, but there are more than enough to boost your monetization. For more complete information on AMP monetization, start here, and we will be adding info throughout the year.
Verticals
There are too many options here to break it down.  Networks vary by advertiser segments.  Look at the ones which have strong demand from specific advertisers in your vertical.  Or, contact us and we can provide more detailed info particular to your vertical.
Conclusion
When building your stack, it's important to know your users and your top-demand partners.  Optimizing your monetization means finding the best solution for YOUR content and YOUR audience.  Adapex works with over 800 sites with unique goals and strategies.  We built our revolutionary tech suite as a plug-and-play product that is easily implemented yet loaded with award-winning tech that can be customized to meet your site needs.  New clients implementing our tech experience 30-520% revenue growth.  If you'd like insight into the best header bidding solution for your site, let's talk.