Before we get to business, I hope you are all healthy and are safe at home.  We will get through this together.
Earlier this week, we ran a check on CPM trends in our crazy COVID-19 world.  At that point we were seeing a decline, but CPMs were still above 2019 levels.  Since many of you asked for updates and more detail, we are back with the latest numbers.  Unfortunately, overall CPMs started to decline after our last report — across devices and verticals. Finance is the only vertical with increasing CPMs.
On a brighter note, we do see overall revenues going up as digital consumption grows.  Internet usage in Italy soared 70% with their lockdown.  News, ecommerce, WFH…we're all online, all day, everyday for most of our needs and entertainment.  We see some direct budgets being pulled, but programmatic advertising budgets are committed and still delivering.  Amazon and other delivery services are increasing budgets.  So digital advertising has been affected, but is much better off than the stock market.  How much is real, and how much is panic? 
The bright lining?  Pollution is declining, the whole world is becoming more digital, and we get to spend time with our loved ones.   What to do in these times?  Optimize content, placements, technologies, and keep your head up.  We'll be back with updates.  In the meantime, stay safe and be well.
CPM Comparison 2020 vs. 2019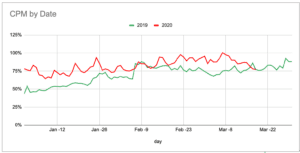 CPM by Device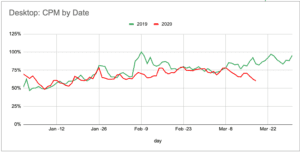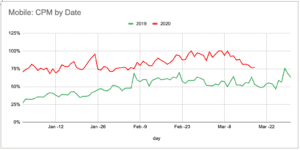 CPM by Vertical