Programmatic I/O 2018 New York
Lots of good news coming out of the Programmatic I/O conference in NY last week which I wanted to share with you, along with some shifts to be aware of and plan for as we look ahead in the next 24 months.
The Latest US Programmatic Forecast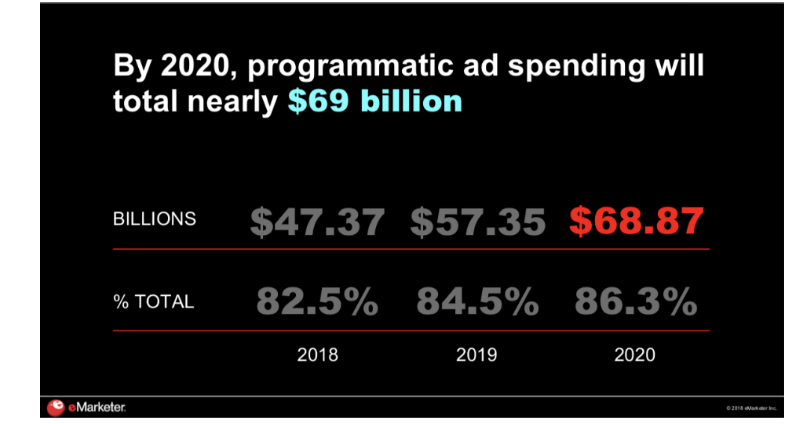 Source: Lauren Fisher, Analyst eMarketer
Overall, the landscape is healthy and outlook strong, as programmatic ad spending is forecast to grow to reach 86.5% of US digital display ad spending, or $69.87 billion dollars in 2020.      
PMPs, PMPs and more PMPs….
Better still, increased transparency through programmatic is enticing brands to move towards more direct relationships with publishers in the form of PMPs and guaranteed deals.  By 2020 PMPs will total more than 80% of programmatic ad spend. Brands are increasingly aware that for every campaign dollar they spend, only $.30 – $.50 makes it to the publisher, with the supply chain eating up everything in between.  Time to cut out the middle fat and go more direct.  This is great news for Adapex, as the newest member to our team, Joanie Berkery,  will be working to bring more and more of these direct deals to our publisher partners.  Much more on this in the months to come.
Mobile continues to grow…
Looking at devices, most programmatic is mobile, and most mobile is programmatic — this trend should continue.  
Video, video and more video….
Video is also growing, representing a great opportunity — forecast calls for $11 billion to come into programmatic video by 2020 and that $1 out of every $2 spent will go to video.  The anticipated influx of OTT and connected TV will play a role, as marketers look to pull everything together in the programmatic ecosystem. If video is not a part of your 2019 strategy, reach out to us and we'd be happy to help get you set to reap the benefits.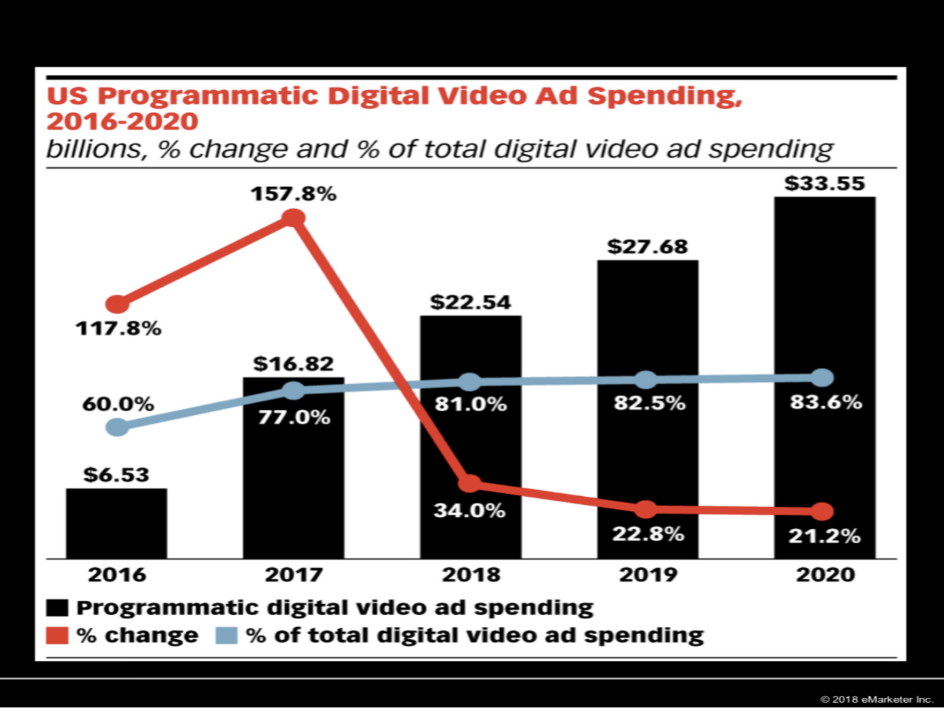 Planning Ahead: Key Takeaways for 2019
Expect More Guaranteed Deals

.  Marketers will want to lock away what is working.

Greater # of Ad Buyers

More people and brands will be involved in the process as marketers build in-house departments, wanting a more direct access to their customers.

Audience Must Be Priority 

Publishers with 1st party data will have competitive advantage. If you don't have 1st party data, look to 3rd party data to help attract more PMPs.

Handle Customer Data with Transparency. 

Best practice (driven by GDPR) will dictate clear collection and use of customer data.   

Customer Experience.

Must keep users happy

.

Marketers increasingly customer centric and invested in customer experience.