It's time again to take stock of what happened in 2021 and make some predictions for the year ahead.  All in all, 2021 brought about exciting evolution in our industry, and for Adapex as well.  Let's recap some of the highlights of the year AND make some predictions for 2022.
Worldwide Ad Spending Set a Growth Record
Led by an unprecedented expansion in digital advertising, total worldwide ad spending set a record for growth this year. In 2021, traditional ad, digital ad, and total ad spending will all post their highest rates of increase since 2011 (eMarketer).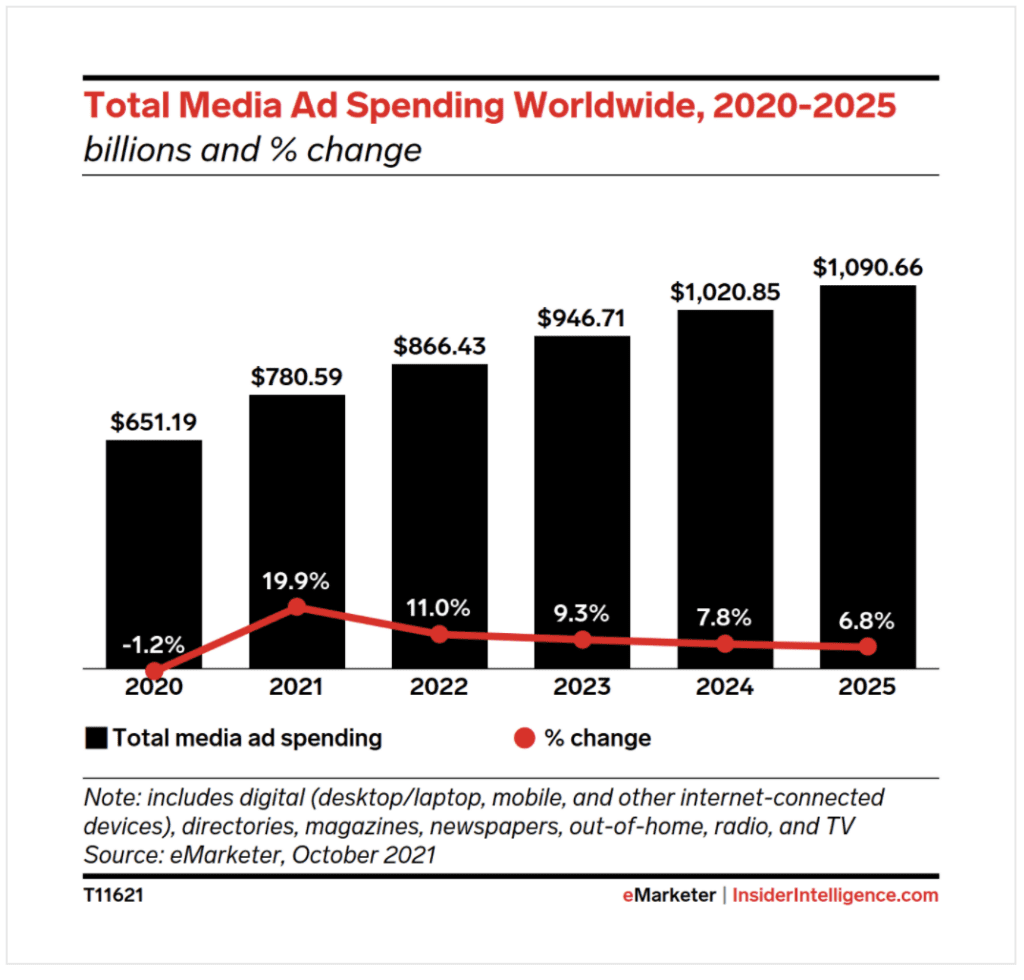 The Great Cookie Migration Has Begun
Though Google pushed back the end of the cookie for another few years, the industry is making (slow) strides towards testing and implementing alternate identifiers. According to Digiday, a majority of publishers are using at least one identifier.
For our part, Adapex has been working with our publisher partners to test several replacements to the third-party cookie.  We have found that there is not a single solution, but multiple solutions.   We are implementing several ID solutions throughout our network of sites and in beta with other targeting options.
We spent a lot of time this year actively participating in the conversations around life after cookies, and even launched a webinar series to explore post-cookie monetization strategies.  Looking ahead, we know that we have just begun to pave a better way forward, and we are excited about the opportunities. In 2022 we'll be exploring several solutions including contextual, inventory pools, curated experiences, and new opportunities with AI.  
On-Page Experience  
Though Google put Cookieapolis on hold, it did update its search algorithm. The update included new metrics to measure the users' on-page experience. This initially sent many publishers scrambling but those who adapted benefited from increased search traffic, better site performance, and thus revenue.  Our clients who improved Core Web Vitals saw revenue improve by 25%. 
The user experience will continue to challenge publishers in 2022.  Ensuring the right balance of positive audience experience and strong site performance will require ongoing optimization and the right technology.  To win this year, publishers will need to prioritize tech and take advantage of the tools that help build trust with their users. Publishers who commit to rebuilding consumer trust should be able to harness first- and zero-party data to find more revenue.
In-App Takes Off
Opportunities abound for in-app revenue in 2022.  With more users on apps than ever, there is a big opportunity to increase revenue in this growing segment.  eMarketer estimates that US adults will spend, on average, more than 4 hours with mobile internet, with 88% of that time within apps.  The global mobile application market was valued at $106.27 billion in 2018 and is projected to grow to $407.31 billion by 2026.   What's more, true header bidding for apps has matured and made development in this arena even more lucrative.  Our app developers are seeing revenue lifts of 30-200% through the implementation of a solid header bidding solution.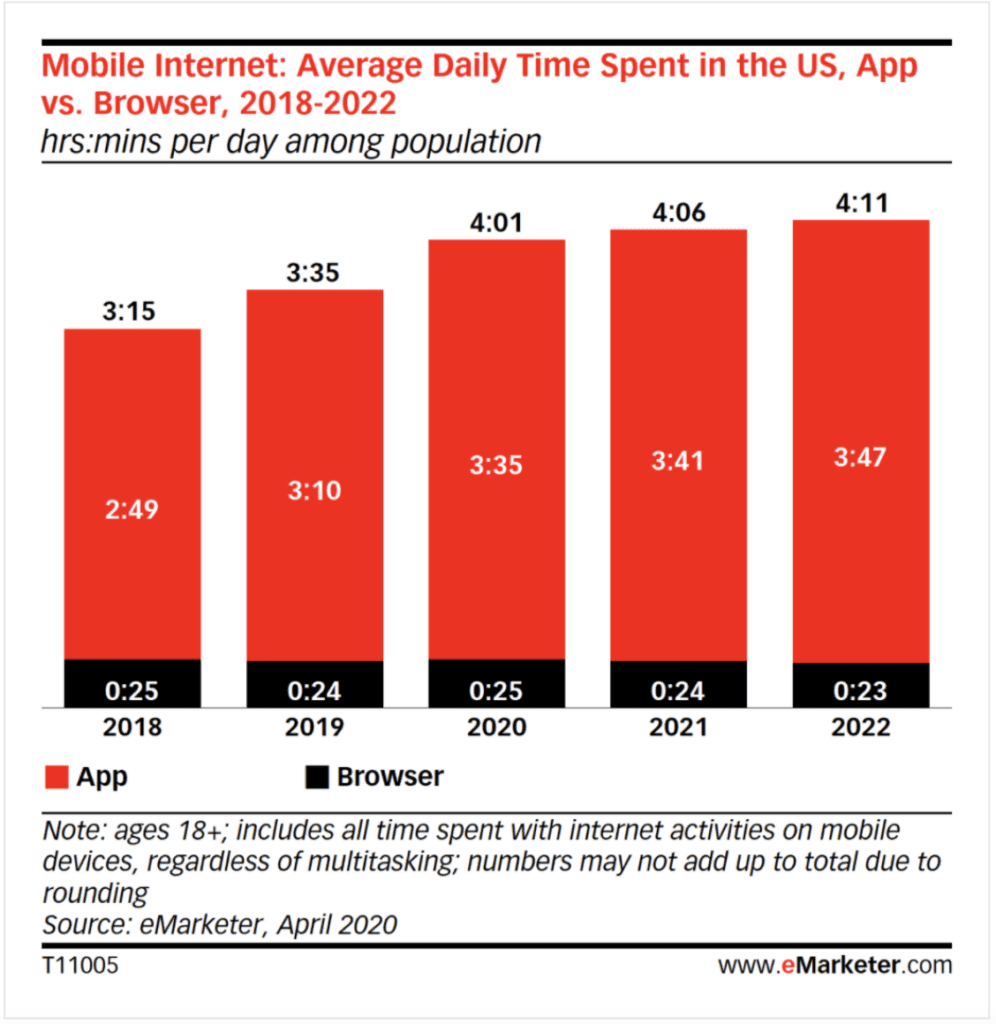 CTV Lands
Last year we highlighted CTV would bust out, and it really stuck its landing.  eMarketer forecasts 2022 US CTV ad spending to be $19.10 billion and accounted for nearly $1 in $10 US programmatic display ad dollars in 2021. And streaming is increasingly on the rise. In Q3 2021, smart TV time grew 64% YOY, according to a recent report by Conviva.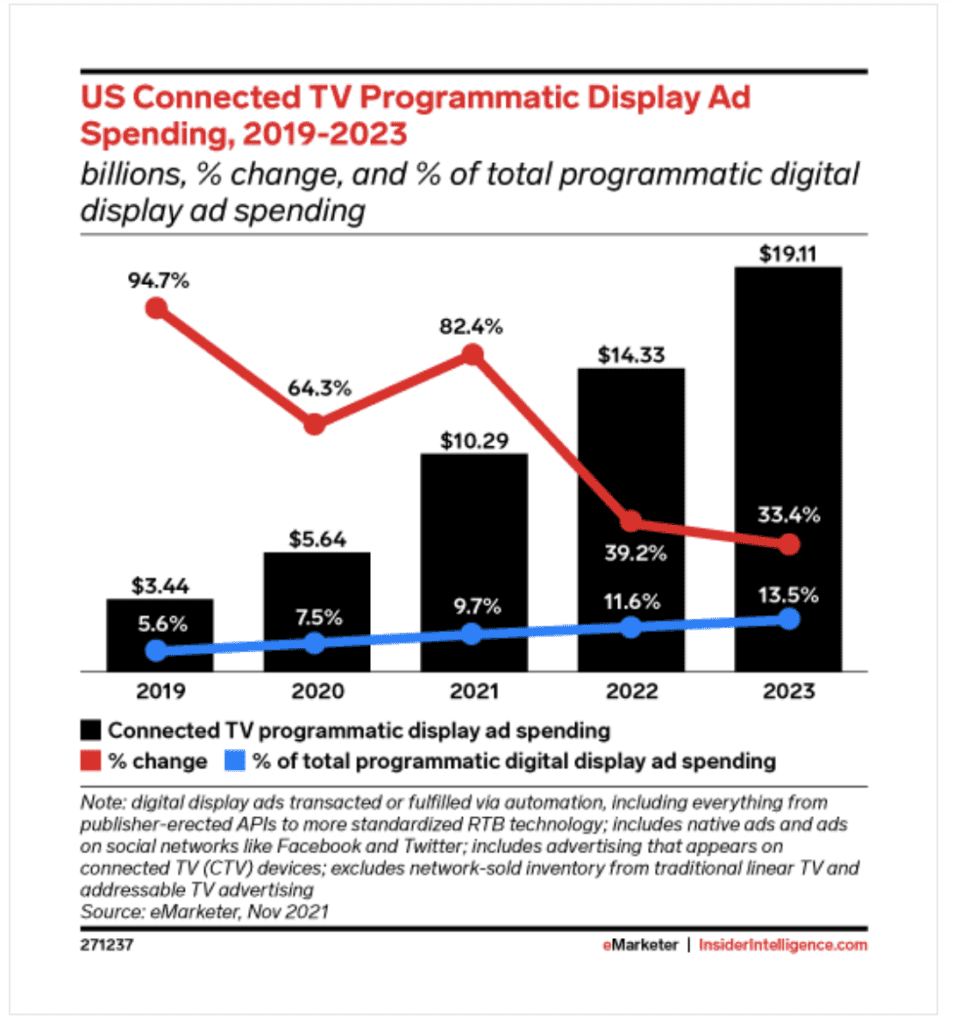 Lots more discussion on CTV to come.  In 2022, it will be important to implement a header bidding solution, have a CTV-specific ad stack, and optimize targeting.  CTV is here to stay and Adapex will share more on this and our true header bidding solution throughout the year.
Conclusion
There will be plenty going on in the ad tech industry in 2022 and the above just scratches the surface.  But what an exciting time to be part of its evolution. Saying goodbye to 2021, pleased with our progress and innovation, grateful for our industry partners and collaborators, and proud of the work the team put in.  Adapex looks forward to seeing where 2022 will take us and working with all of our partners on the path forward.