For any publisher navigating monetization, one thing is always certain…there is no one-size-fits-all solution.  There are so many technologies, networks, partners, software, and platforms to evaluate and choose from.  We'll try to solve one of the big questions here, as we break down Google's platforms – AdSense and AdX.  Let's take a look at the key differences and benefits of each.
What is Google AdSense?
Google AdSense is an advertising network run by Google where publishers can sell their ad space in a programmatic ads auction.  The AdSense program delivers ads served by Google Ads to the publisher's site. Google then pays the publisher for the ads displayed, based on user clicks or on ad impressions, depending on the type of ad.
Set up is easy and simply requires requesting an account online.   Once your account is approved, you can generate codes in your AdSense dashboard, and then add these tags in your site's code.  AdSense will serve the ads, handle targeting, and payments to the publisher. 
What is Google AdX?
Google AdX is a programmatic ad exchange with a much larger pool of buyers.  While AdSense is a part of the demand in AdX, there is added demand through the inclusion of ads from other networks, direct advertisers, agencies, etc participating in the exchange.  Naturally in an auction scenario, more buyers mean higher CPMs to publishers.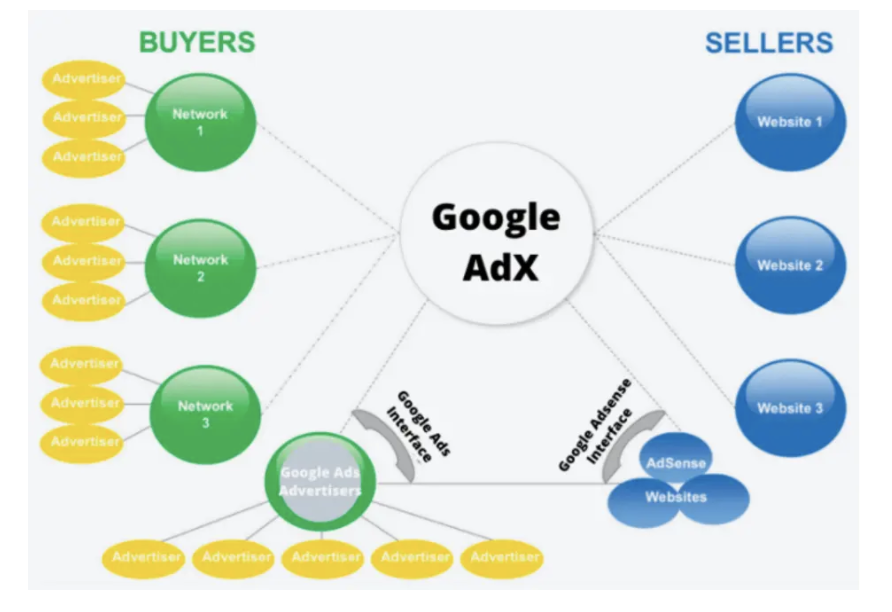 (Image Source: Google: Ad Exchange Overview)
In order to access AdX, larger publishers may apply directly to Google.  What is large? While Google does not openly publish a number of minimum page views, our experience tells us that is around 10MM monthly pageviews and above.  Medium to small-sized publishers must go through an authorized Google partner (like Adapex).  In addition, publishers must have an ad server such as Google Ad Manager in order to run the auction process.  
Additional criteria considered to qualify for an AdX account:
Appropriate brand safety measures

An updated ads.txt file with details of buyers

Ad viewability 

Strict adherence to Google policy
Key Differences
While we made it sound very simple in the descriptions above, there is much more to consider.  While both provide access to plenty of buyers, AdX offers a much larger demand base, more premium deals, and greater controls over the auction process (also thanks to the combined use of Google Ad Manager.) 
AdSense
AdX
What
Advertising Network
Programmatic Ads Exchange
Deals
NA
Higher CPMs through running premium marketplace deals (PMPs) via Preferred Deals and Private Auctions

Demand
Adsense Marketplace

Adsense Marketplace plus demand from direct advertisers, agencies, and other DSP networks.
Blocks,
Filters, &
Price Floors
Account Level Blocking
*All blocks applied across the entire account
*URLs
*Categories
*Advertiser
Account Level Blocking
All blocks applied across the entire account
*URLs
*Categories
*Advertiser
Targeted Blocking
*Same categories above, but can be targeted to specific inventory
Opt in
*Increase demand by opting into to categories and technologies
Price Floors
*Account level, and/or targeted to specific inventory


Pros
Ease of implementation
Higher CPMs, higher quality ads
Cons
Less flexibility, control, and lower CPMs

Only available for larger sites and/or publishers working through an authorized Google partner (like Adapex)
Conclusion
The best monetization solution is one that maximizes your revenues, given your size and resources. 
Partnering with an experienced adops team can help.  Adapex publishers partners have access to AdX and other exchanges that allow them to maximize revenue for every session.  When coupled with header bidding, we see publishers earning 50-500% more when moving to AdX + header bidding.   We'd love to help you grow your business.  Join our network of publisher partners and take advantage of our relationships with Google AdX and over 30 other leading programmatic players.  Isn't it time to maximize your revenue on every impression?