As we approach the end of a long and winding year, Adapex reflects on the challenges and accomplishments we experienced in 2020.   Monetization got tough during COVID, and we got tougher.  With fewer dollars in the marketplace under clouds of uncertainty, we knew we had to be even more innovative, and smarter, about finding and capitalizing on opportunities. 
As we look back we give thanks for what we were able to accomplish this year.  Working closely with our publisher partners, we focused on 3 main pillars that drove growth for all:
Viewability
Understanding the direct correlation between high viewability and high CPMs, this was an important tactic to ensure our partners got their share of whatever ad spend was circulating. We performed ongoing viewability audits and worked closely with our publishers on optimizing every ad unit to its fullest potential.
New Custom Wrapper
We are proud of the release of our new custom wrapper with many updated features.  These custom features improved site performance and boosted revenues for all of our publisher partners.  Prebid is ubiquitous now, so being SMARTER and more innovative about how we apply it is the differentiating and thus winning factor.  
Direct Advertising Partnership
And, finally, we forged a partnership with Dsquared Sales, an experienced advertising sales firm. We are excited to expand the direct deals and PMP buys we bring to our publishing partners to drive up premium CPMs.
Industry Recognition
This combination of best-in-class technology and client success led to industry recognition.  The Adapex team was recognized as a Drum Finalist for two awards: Best Adops Team and Best Overall Technology for our wrapper solution.  The team was also recognized with a Bronze Stevie Award for Company of the Year.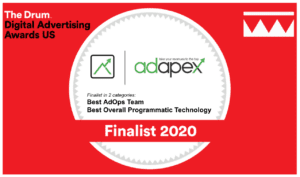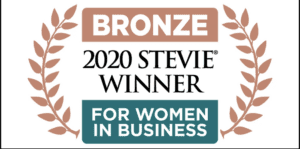 Results That Speak for Themselves
We are grateful that not only were we able to stay the course but that with the trust and collaboration of our clients we emerged strong and successful.  These combined efforts brought uplifts to our existing clients and even more significantly improved performance to our new incoming clients (compared to their pre-Adapex monetization.)  The results speak for themselves: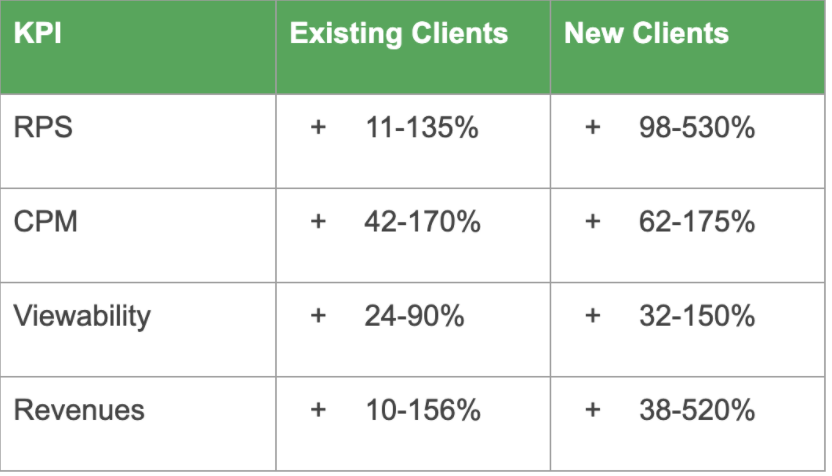 For Thanksgiving 2020, we are grateful for growth across the board and look forward to continued success.  More than anything, we are grateful to our publisher partners and we will continue to innovate and optimize for you.