Here we are in January of 2021 (we made it!)  and ready to put 2020 behind us.  But before we completely move on, Adapex analyzed the top header bidder networks based on data from the past year.  As with all components of your monetization strategy, there is no one-size-fits-all for your header bidding stack.
When you consider which networks to work with you need to take into consideration the device your user prefers, geo, AMP, verticals, and other factors that drive your business.  Below we share our evaluation of the header bidders that ran on our 500+ sites in 2020.  Given that Google Adx (and Google OB) is the dominant component of a strong header bidder stack we have left this out to better focus on the others.  We have broken out our analysis by the criteria that should drive selection.
Device – Mobile, Desktop, Tablet, CTV
Regardless of which device your users prefer, Appnexus and AOL/Verizon should lead in your demand stack as they provide 50% of the revenue for desktop and mobile impressions. 
Then for desktop, aim to include Sharethrough, 33Across, and Pubmatic.  For mobile look to include Sharethrough, YieldMo, and 33Across.  If your site has significant tablet traffic consider adding Sharethrough, Amazon, and Conversant into the mix. Publishers with a Connected TV presence should reach out to Amazon and Pubmatic.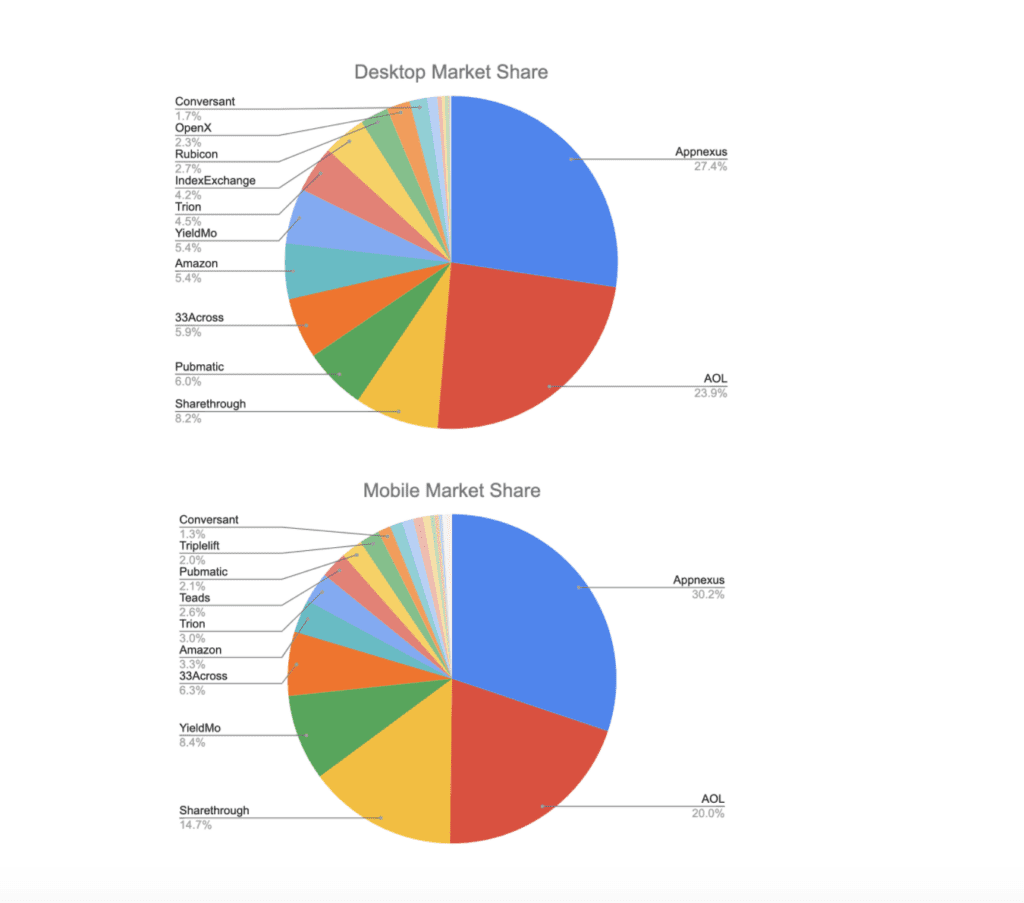 Geo
While the above refers to worldwide traffic, the United States geo stack is similar. Appnexus, AOL/Verizon and Sharethrough should lead and if space allows, Amazon, Teads, and IndexExchange will give a nice boost.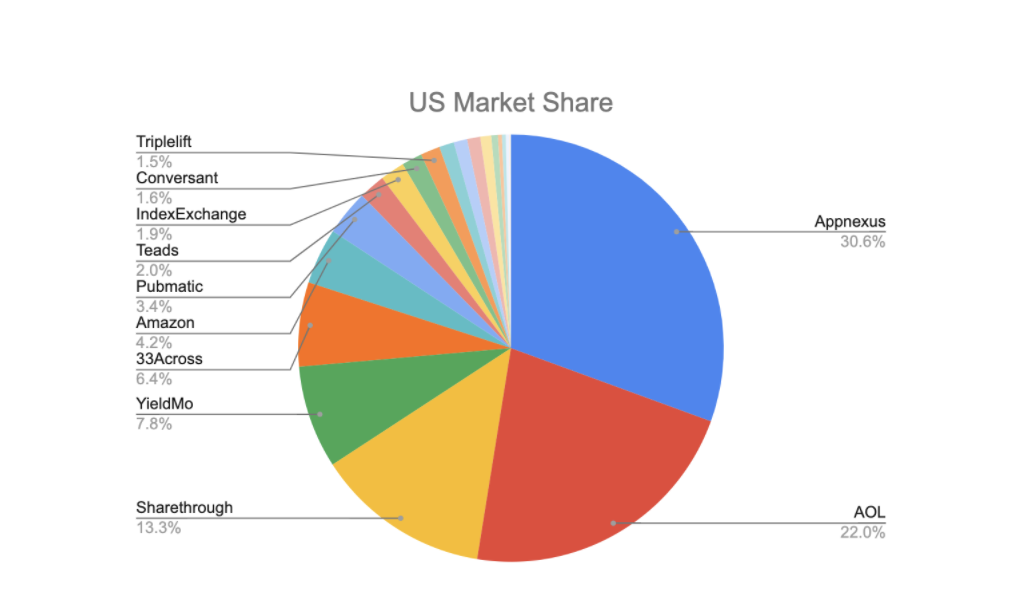 European sites need to start with Appnexus, then consider Pubmatic, Rubicon, OpenX, IndexExchange, OneTag, and Amazon to complete your stack. OneTag is strong in Europe, with a particularly strong demand for French, German, and Italian inventory.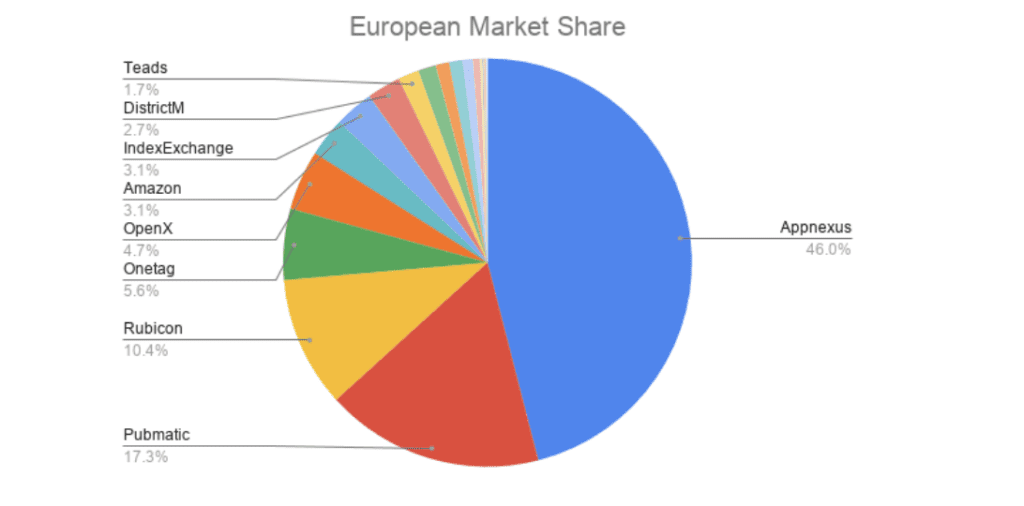 Asian publishers should run the traditional stack: Appnexus, Pubmatic, OpenX, Rubicon, IndexExchange, and AOL/Verizon. Australia's prime stack is similar to that of the US, just remember to add Rubicon and OpenX in place of Conversant and Yieldmo.
In Africa your staple will be Pubmatic, Appnexus, and Rubicon. Throw in AOL, DistrictM and Amazon for English speaking countries, and OneTag for French. Spanish speaking countries should not underestimate Amazon – it's become a strong player along with Appnexus, AOL, and Pubmatic. To complete your stack include Rubicon, Teads, and Yieldmo.
Video
If you run video ads Verizon is a proven leader. Now with their migration to a new SSP, it is quite easy to plug in your video inventory. Other strong players in the video stack are Appnexus, Pubmatic, Rhythmone (aka Unruly), and IndexExchange. 
Prebid or OB?
If you have access to Google OB, this is your best option.  Implementation is relatively easy, and the CPMs are quite strong.  In general, most networks will still take a larger volume in prebid, but we have seen some networks which actually perform better in OB.  
Prebid Client or Server to Server (S2S)?
As we have mentioned in previous articles, in order to optimize, we strongly recommend a hybrid header bidding set-up.  This will optimize demand while preserving page speed and thus, user experience.  For this reason, Adapex has built this capability into our custom wrapper.
With diminished cookie-matching capability, S2S performance is still far behind the client side implementation in terms of revenue share, though CPMs are starting to be comparable. Overall, we are seeing Client Side taking two thirds of all inventory, with S2S the remaining third.  Particularly strong in S2S are Appnexus and Consumable which make 40% of their revenues server side.
AMP Leaders
As AMP will run S2S only, you will have to limit yourself to those enabled prebid bidders.  To augment the S2S stack, make sure to reach out to Amazon and make use of Google OB.  For more complete information on AMP Monetization, start here, and we will be adding info throughout 2021.
Verticals
Here, the options are too many to mention.  Naturally, networks differ in their reach to varying advertiser segments, which means you should definitely include those that have strong demand from particular advertisers within your vertical.  
Adapex Can Help
It's important to understand your user, and your top demand partners, when building your stack.  Obviously you want to optimize your monetization to drive revenues, but you will  need to find the best solution for your site.  Adapex can help, in addition to our innovative custom wrapper, we can share our experience to help you find the right set-up for your needs.  We work with over 500 publishers with unique monetization goals and strategies.
If you're ready to take your business to the next level and drive revenue with a smarter header bidding solution, let's talk.  Reach out and we'll work together to make 2021 your best year yet.