Ad Spend Update 4.24
It's Friday and we're back again with our weekly round-up of the latest information on Ad Spend and COVID-19 impact on CPMs.  Earlier reports can be found here.
This week let's take a look at ad spend change by category, US Digital Video forecast, and Adapex's weekly CPM analysis for our clients.
Providing a possible glimmer of hope, an analysis by Goodway Group projects that programmatic is beginning to rise from rock bottom. Analyzing the programmatic win-rate trend, Goodway Group found that the win-rate has fallen to 55% since it peaked on April 7 at 77%. Suggesting, perhaps, an increase in demand as advertisers are beginning to re-enter the market or increase spend. Wouldn't that be a welcome shift!
Impact on Global Spend
PubMatic has updated its Ad Spend by Category to take a look at global ad spend for the week of April 5-11 vs the first week of March. We looked at the same data in our first report, comparing March 1-4 v March 15-18, and we see many more categories are decreasing spend, and an uptick to ad spend in the News category. This is partly driven by the explosion of News traffic, as people spend more time online and with COVID-19 reporting. We need to brace ourselves though, 2Q is forecast to take the biggest hit on ad spend with an expected 41% decrease in Digital Display.
Looking more specifically at the sharpest decreases, notably Sports, and the largest increase trends.
Digital Video Forecast
eMarketer has revised its forecast for US Digital Video Spend. Video has been on a high growth trajectory for a few years and spending uptick continued in the first two months of the year. However, with the economic downturn, decreased spending, and reduced CPMs for video inventory, it is now expected to be between $3 billion and $5 billion less than forecast. The original forecast was for a 26% increase in ad spend for 2020.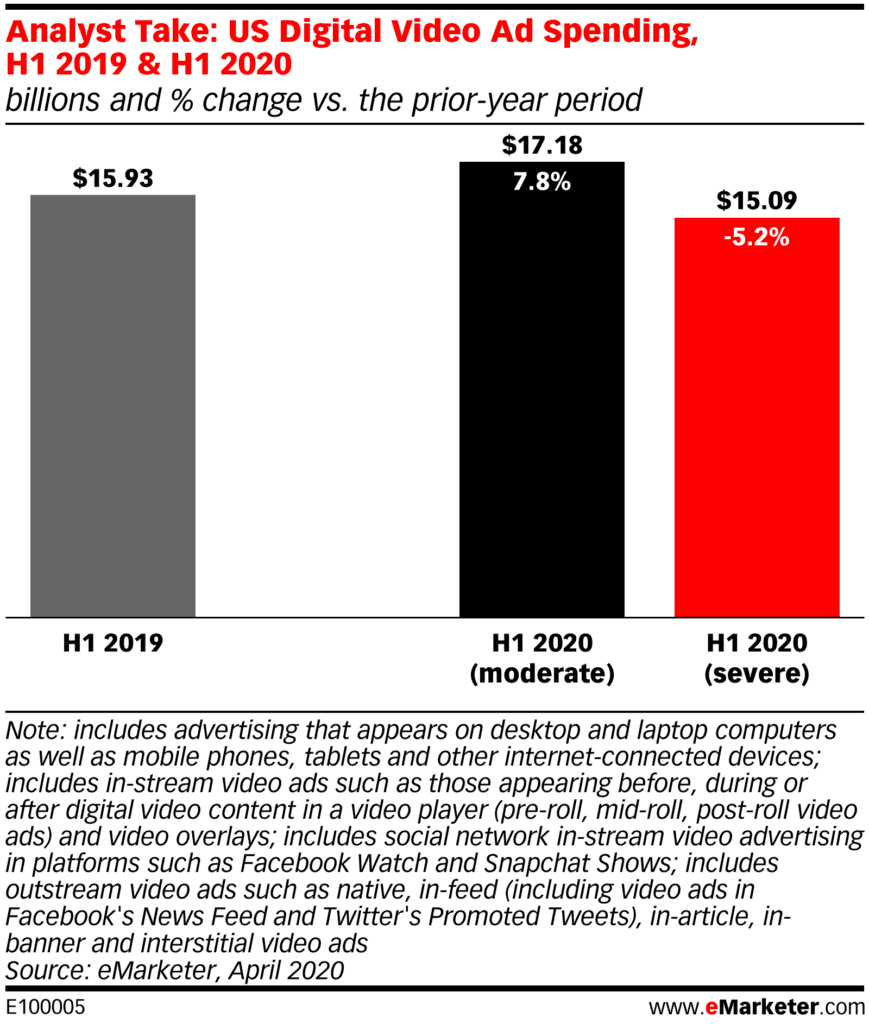 However, this video forecast assumes less of a decline than is forecast for display. Video is well-positioned for branding campaigns, which is what many companies are now focusing on, so that should increase demand and make video placements attractive to buyers.
Adapex CPM Trends week of April 20th
We continue to see overall CPMs dip this week. But consistent with the overall category trend noted by Pubmatic, we see News is up 14% over last month.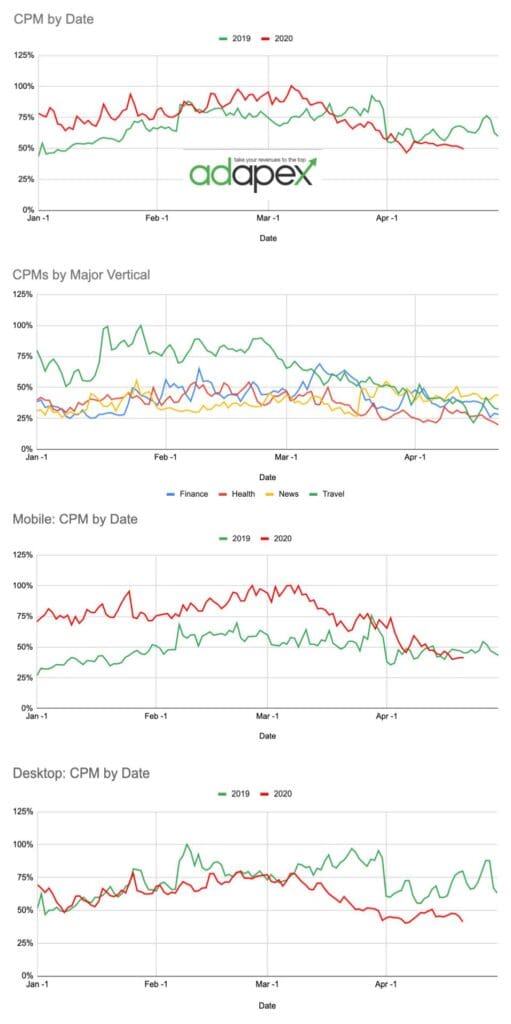 What Can Be Done?
There are a few things that Publishers can do now to drive, or save, revenue. Adapex will be working closely with our publisher partners on these and other measures to help them maximize their revenue.
Revisit floor strategy, reassess advertiser and category blocks, and deals to see if adjustments need to be made in the short term
Employ technologies to increase volume, try refresh, but make sure your settings are right
Make your inventory as valuable as possible: Viewability is important to buyers.  Consider adhesion units.
Maximize competition for your inventory
Be creative: video capabilities, content strategy around COVID-19, curated content, other ways to attract buyers who are still active in the marketplace
Review Adapex Tips to Maximize Revenue to see if any of our recommended seasonal adjustments make sense at this time
We'll continue to follow reports on industry trends and advertising spending. Follow us on LinkedIn, we are publishing weekly updates every Friday.  Adapex is here to work with our publishing partners and we'll get through this together.