First of all, we hope everyone is doing well and managing during this remarkably crazy time. And while we know your inbox is flooded with well-intentioned messages, we wanted to share some forecasts that have come across our desks as we begin to think about how the next few months might look for the programmatic landscape.  
Media Forecasts
Not surprisingly, 2020 global media spending forecasts are being adjusted to show a decline for Q2 and Q3.  This is driven by major events like the cancellation of the Olympics, suspension of sports leagues, and of course the state of the economy amid the pandemic.  According to MediaPost, Interpublic's Magna has issued a revised U.S. global media forecast showing that full-year ad sales may drop 2.8% this year versus the pre-pandemic gain of 6.6%. 
Advertisers Were Quick to React
A recent IAB study of nearly 400 advertisers and agency executives conducted last week shows that the majority of them are already seeing a big impact on their overall planned spending across all media channels.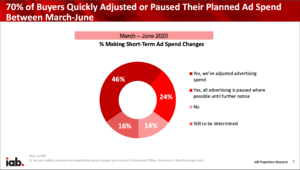 Looking At Digital Spending Specifically
The IAB survey reports that between March and June brands said they are spending 33% less than planned on digital media.  Digital Media spend is expected to decline by 37% in March and April compared with 26% in May and June. The outlook for the second half of the year is a little brighter with two-thirds of buyers noting they haven't decided about spending adjustments, reinforcing the notion that brands will still be looking for flexibility in the marketplace. 
COVID-19 is also changing how brands are spending money, according to AdExchanger. There is a shift away from performance-based advertising towards cause- or mission-based marketing and messaging.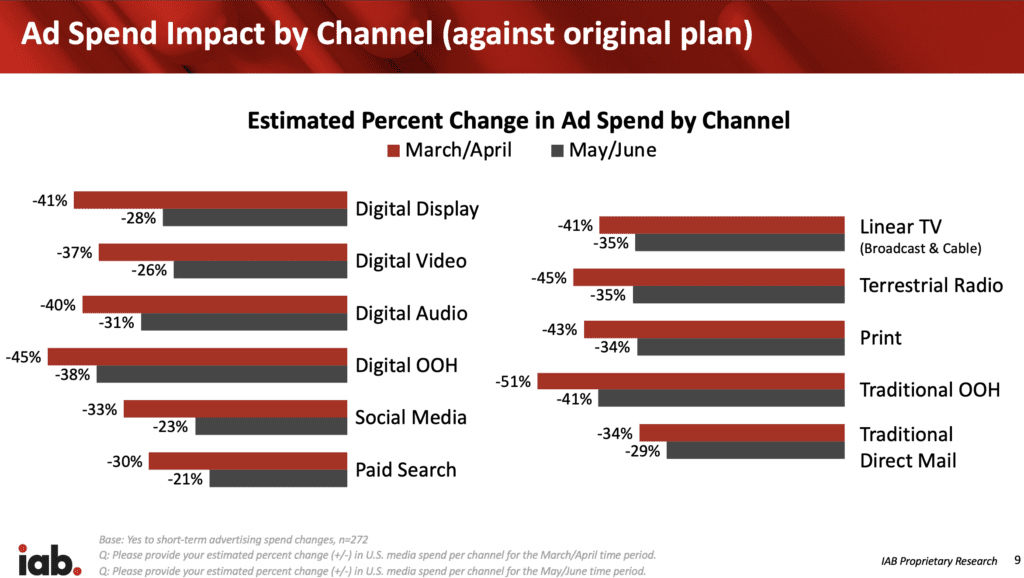 Glimpse of Current Impact
Pubmatic took a look at Ad Spend Change Pre-Global Impact (March 1-4) vs. Post-Global Impact (March 15-18). This data is based on global advertiser bids on a monthly basis.  The spending trends make sense based on what is currently going on in the world with constant COVID-19 news, working from home and the decline in travel, eating out, sports, etc.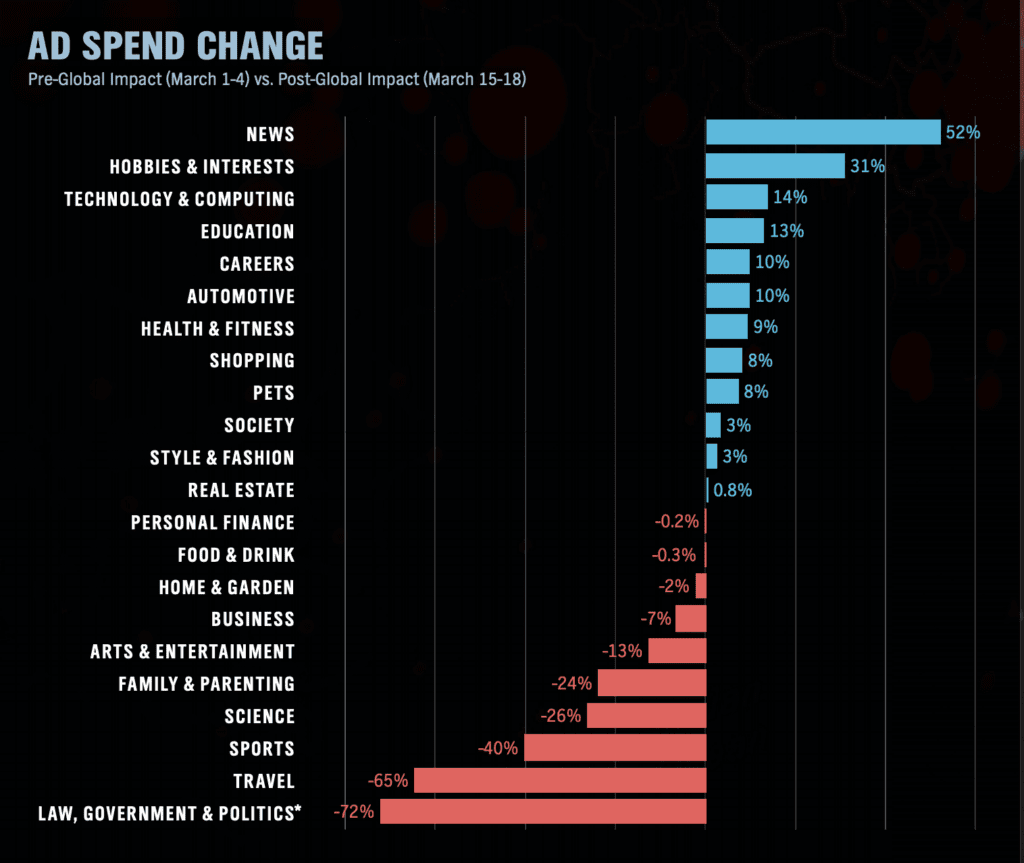 Note: PubMatic's data analytics team analyzes over 13 trillion global advertiser bids on a monthly basis, utilizing the company's best-in-class analytics capabilities. This snapshot is based on PubMatic-sourced operational data.
Adapex CPM Trends
Adapex began sharing our weekly findings with our clients and the market in early March with our article CPMs amid COVID-19.  Not surprisingly, we saw an immediate drop in CPMs, which are now performing below 2019 levels on both desktop and mobile.  Increased volumes help to keep revenues from dropping as much, but shifts in advertising and digital consumption have led to two positive trends, news and finance seem to be on a recovery curve upward.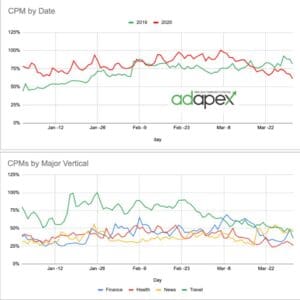 Staying the Course
It's impossible to predict where all this will take us and when we'll begin to see a light at the end of the pandemic tunnel. Like you, the Adapex team is working from home and diligently following the recommendations of our governments and WHO.  And we remain hopeful and committed to working with our publishing and advertising partners to weather the storm.   We are publishing weekly updates every Friday on LinkedIn.  To keep up to date with the latest, just click on the link below.