It's been a rollercoaster of a year, but we are looking forward to a rebounding and remunerative Q4.  Is your ad stack ready to reap the rewards?  Professional expertise can help you get the most from your inventory and increase your revenues.  Adapex is working with our publisher partners on five key areas to prepare for Q4 to make the most of the spending season which should bring inflated holiday budgets and significant advertiser dollars returning to the market.
Q4 2019…Who was Spending?
Looking back,  Q4 is the biggest quarter of the year for programmatic buyers with 28.4% of all programmatic dollars spent during this period last year.  And though it's been a rough year, programmatic has shown to be resilient and is up 11% YoY.   Per MediaRadar, 2019 spending by category broke out as follows.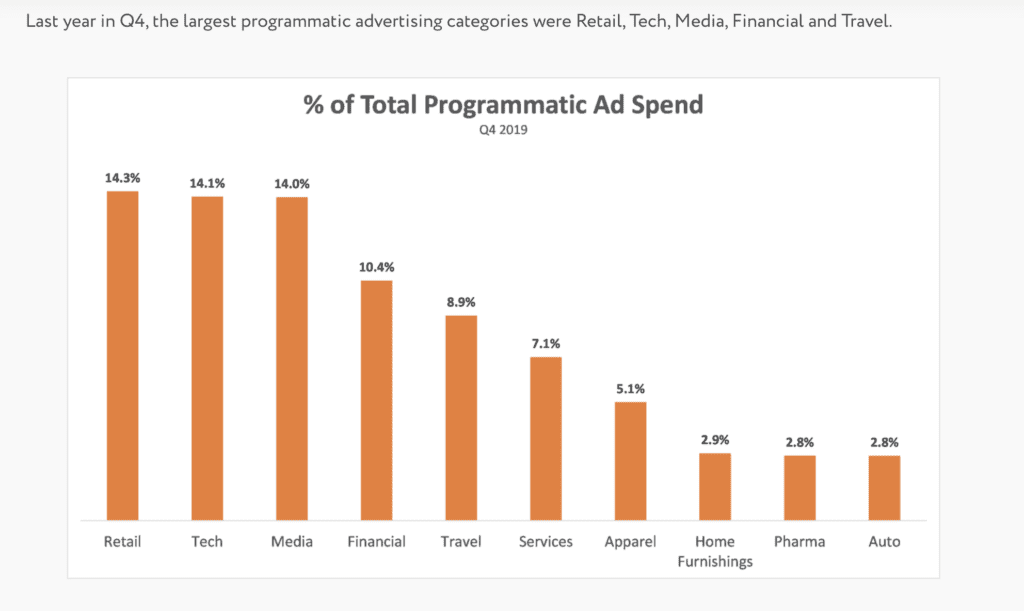 Q4 2020…Be Ready
Even amid the pandemic and continued uncertainty, advertisers should still be spending in Q4 and looking to gain some Holiday share of voice.  To best prepare your ad stack and capitalize on increased spend, Adapex recommends the following:
Increase Demand

Focus on seasonal content to increase traffic

Bring competition to your ad stack with the right Header Bidding strategy

Review floor pricing strategy

Optimize Ad Units

Prioritize top-performing ad units   

Analyze your ad layout to optimize viewability for increased CPMs

Consider non-standard sizes and formats (adhesion, skin, push-up/down)

Add lazy loading to improve viewability

Add VIDEO! 

There is high demand for video inventory and video ads bring increased CPMs 

Make sure to get your video header bidding strategy right (Adapex can help.)

Implement a smarter Ad Server Solution

Adapex offers a proprietary ad server solution to manage, serve, and track your ads

We'll help you analyze and optimize to boost revenues

Implement our unique HB Wrapper…we are seeing exciting results

Improve trust and transparency

Implement a Consent Management Platform to comply with privacy regulations and best practices

Assess ad blockers

Categorize domains properly

Anything that improves your user experience will improve your ad revenues

It's been a wild ride for publishers and it's more important than ever to make sure your ad stack is ready for Q4.  Adapex can help share our expertise and experience to make sure your site is optimized to accelerate your Q4 revenue growth.   Let's work together to improve inventory performance, value, and return.  Sign up today and we'll make sure your stack is optimized for the lucrative Q4 ahead.  Or we'll do a free site audit and we can discuss how to improve your monetization.