All signs are indicating that we did, in fact, hit rock bottom in April and are seeing ad spending begin to recover this month.  Though it may still be some time before we see actual growth vs last year, it is encouraging to feel that we may have come through the worst of the storm.
Q3 Rebound for Ad Economy
A recent Advertiser Perception survey found that the revamp has already started and the lowest point is behind us.  Dentsu Aegis Network reports that 73% of brands are planning for recovery and looking to retain their share of voice and competitive edge.  The key for marketers now is remaining agile and ready to optimize quickly to get the most out of every dollar spent.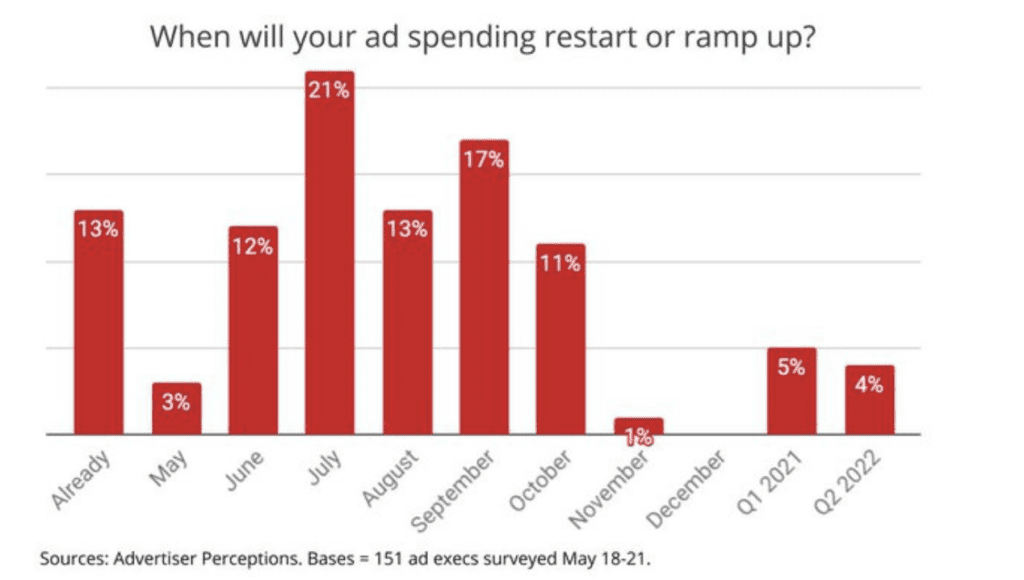 End of Lockdown Impact in Europe
Keeping an eye on Europe which is a few weeks ahead of the US in terms of ending the lockdown, we see another (welcome!) shift in supply and demand.  People are starting to go out again and decreasing their online media consumption; France saw a 30% drop in traffic in May vs April.  Though with advertisers' return to market leading to higher bids, CPMs in this market rose and revenues increased +16%.   We hope this means the end of the lockdown signals a more favorable balance between supply and demand.
Adapex CPM Trends Week of June 8
Overall CPMs are up this week from where they were in May.  We saw a decline in CPMs for News, Travel, and Finance for the week of June 1-8 when compared to the same period in May.  So while we are seeing a recovery trend from the worst of the COVID-19 impact, there is still some volatility as many brands are in constant flux and working through the pandemic disruption.  And, as restrictions are easing and people are getting out, time online is down.  It will take some time for supply and demand to readjust.  But if we look to trends in Europe (above), all indications are positive that we will get there. 
Staying the Course
Adapex will continue to monitor CPMs and work with our partners to maximize revenues as programmatic ad spend recovers.  While overall spending is not back to pre-COVID levels the gradual recovery has been consistent over the last two months and programmatic ad spend overall rose 14% in May, per Pubmatic.