Ad Spending Update April 17, 2020
Our second post in a series of updates on COVID-19 Impact on Ad Spend.  With no more clarity on how long the quarantine will last, all discussion continues around COVID-19 and its effects on consumers and the economy.
This week we take a look at some of the latest news and data on ad spend and shifts in the marketplace.  While times are uncertain and most news feels bleak, there are some brands that are doing quite well with their online sales and leveraging the current needs of consumers to increase their advertising.  We culled together some news from MediaRadar, eMarketer, and IAB to shed some light on what's happening now.
Who is Spending?
MediaRadar held a Webinar and took a look at current advertising spend across a few categories.  Note that spend is by week across all media, excluding monthly magazines. A few categories are enjoying increased online sales due to the quarantine and stay at home initiatives.  Among those categories, we are also seeing an increase in their ad spend. These include children's toys, breakfast foods, frozen foods, household products, streaming services, consumer electronics, and home productivity tools.  Among these products spend is up for the month of March, as exemplified by the chart below.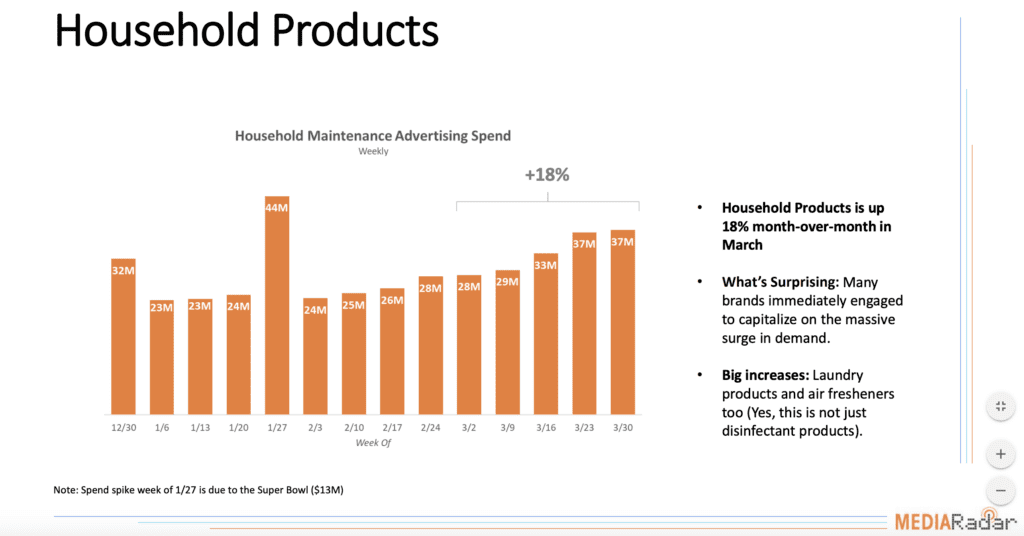 Q2 Will Hurt the Most
According to a study by eMarketer, 89% of buyers have taken action on their media budgets since March 17.  This is not surprising and we will likely see the biggest impact on Q2 spending and revenues. Though all channels will see a decrease, because digital media is the easiest and fastest to pull, it will likely see the most immediate impact.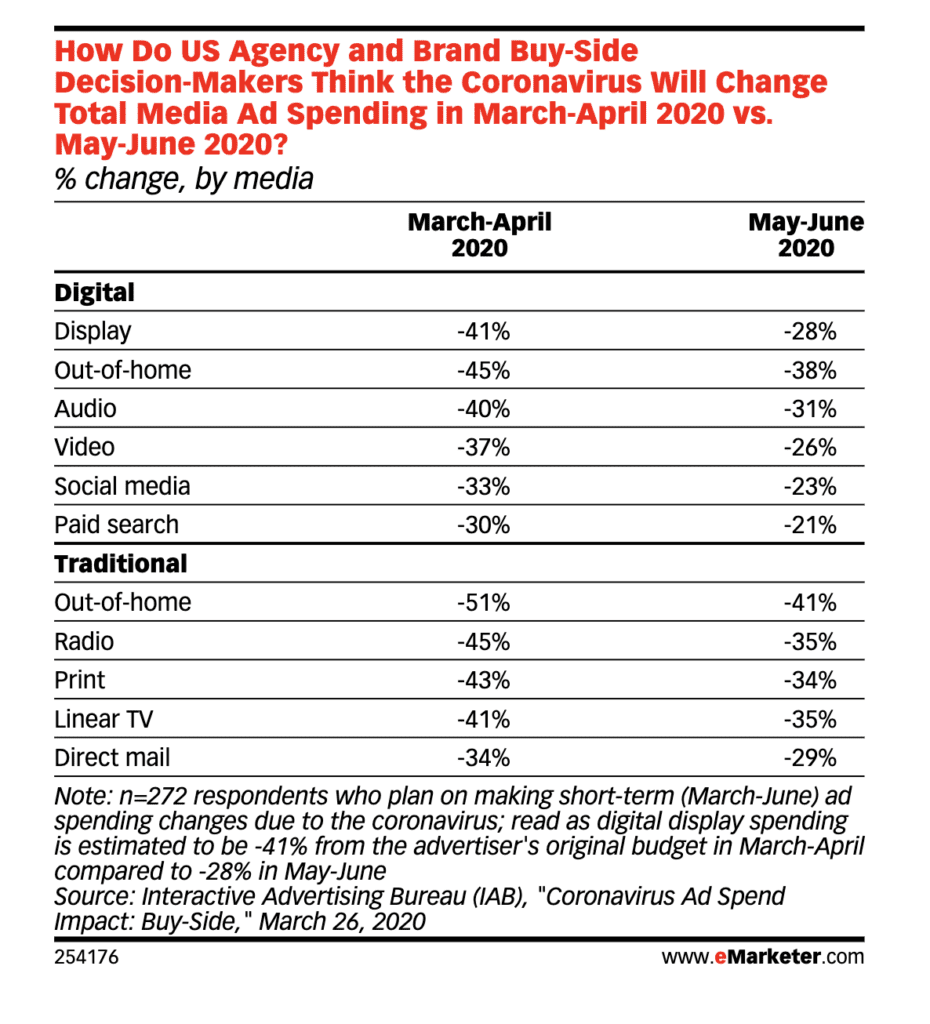 Deeper Look at Impact
A recent study (4/15/20) conducted by IAB surveyed media sellers (publishers, media platforms, and programmatic companies) to see where they thought revenue would be impacted the most.  Not surprisingly, and likely on target, it is anticipated that Travel, Retail stores, and any providers of out-of-home experiences will pull back the most.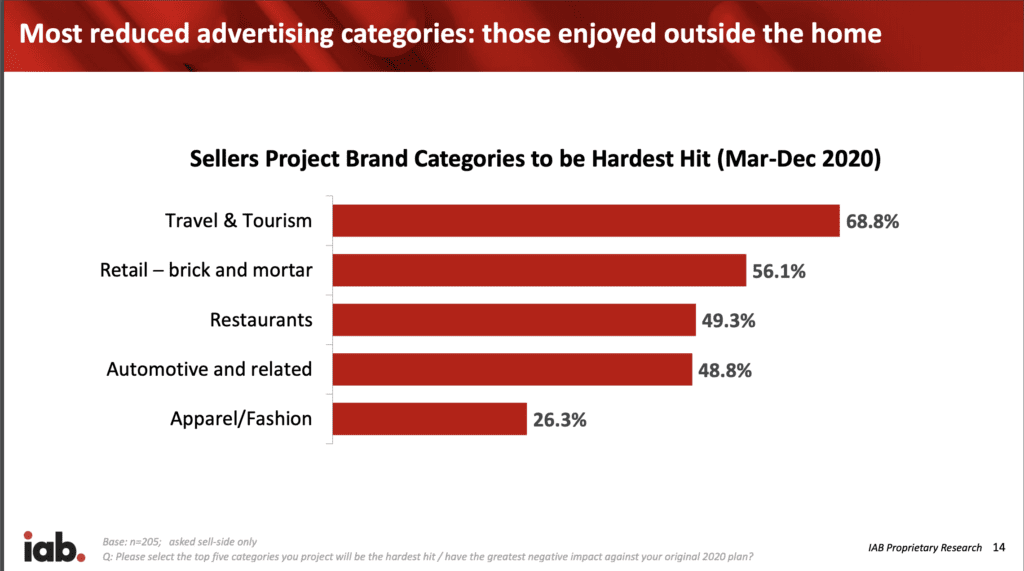 And, on the other side, a look at those advertising categories that will reduce their spending minimally.  These projections are in line with current consumer behavior and purchase patterns.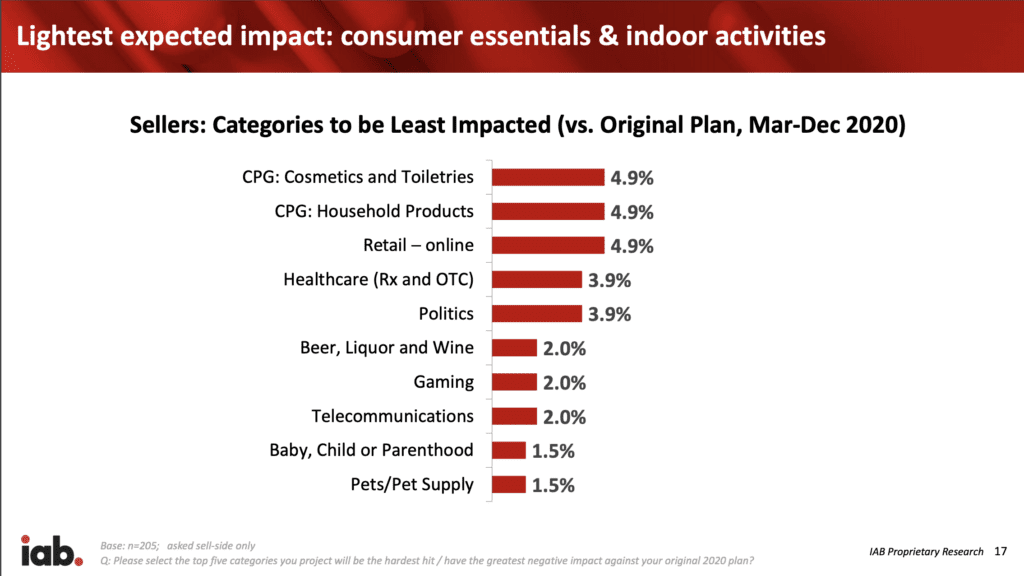 Adapex Weekly CPM Trends
After a promising start to the week, CPMs soon began to taper off, leaving us off very near (+/- 3%) to where we began the week. In looking at changes in CPMs March 1 – April 15, we see:
Travel -35%

Health -21%

Finance -8%

News -1%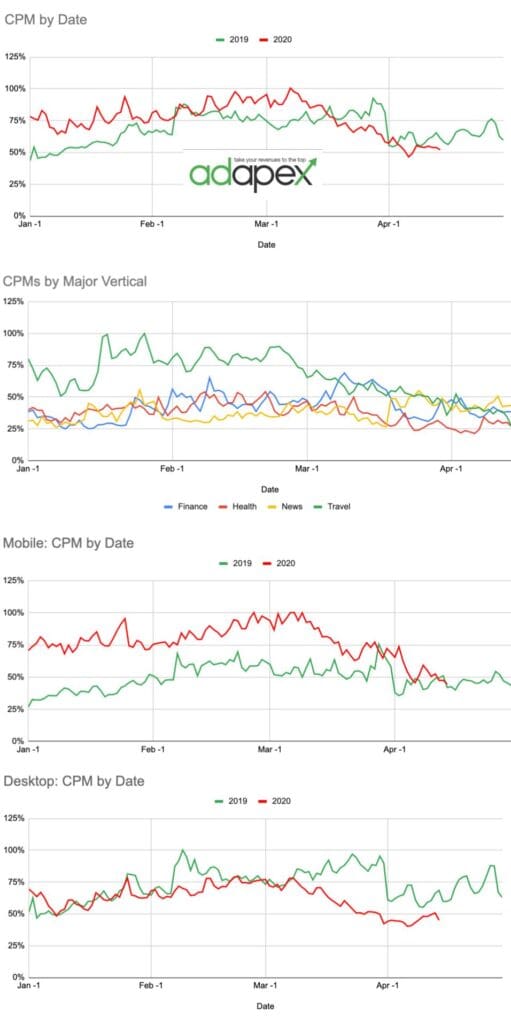 Observations of Note
Publications that cater to women, including mothers who make most of the purchase decisions in their households, need to emphasize their connections with those audiences.

The publishers that are going to come out of this stronger are the ones that cater to their users and the user experience.

Forecasts for the second half of the year are most optimistic.
We'll continue to follow reports on consumer behavior and advertising spending.  Follow us on LinkedIn as we plan to report regularly on what's being reported and bring useful insight to our colleagues and partners.