We've been having a lot of conversations with our partners around ad spending and what the second half of the year may look like.  There is a lot of uncertainty with a chaotic economy, post-pandemic inflation, and the impact of the war in Ukraine.  But, if we take a deep breath and consider some key data, I think we'll find that there are reasons to remain optimistic.
Ad Spending Will Remain Strong
According to eMarketer's Inside Intelligence, advertising spending will continue to grow throughout 2022, and it expects US ad spending to increase 13.2% year over year in 2022.
Consumer spending remains strong despite inflation and pending recession

Spending on social media and CTV will continue, advertisers have few other places to spend

Other ad formats like search and augmented reality continue to perform well

We may see more ad spend move to programmatic, as we did in COVID

If past recessions are considered, we can  presume that digital spending should have more of a buffer than other media forms
CTV
CTV has a high adoption rate among US consumers and lots of flexibility.  And we know marketers will go where their consumers are.  Despite measurement concerns, eMarketer projects continued increases in ad spend for this medium.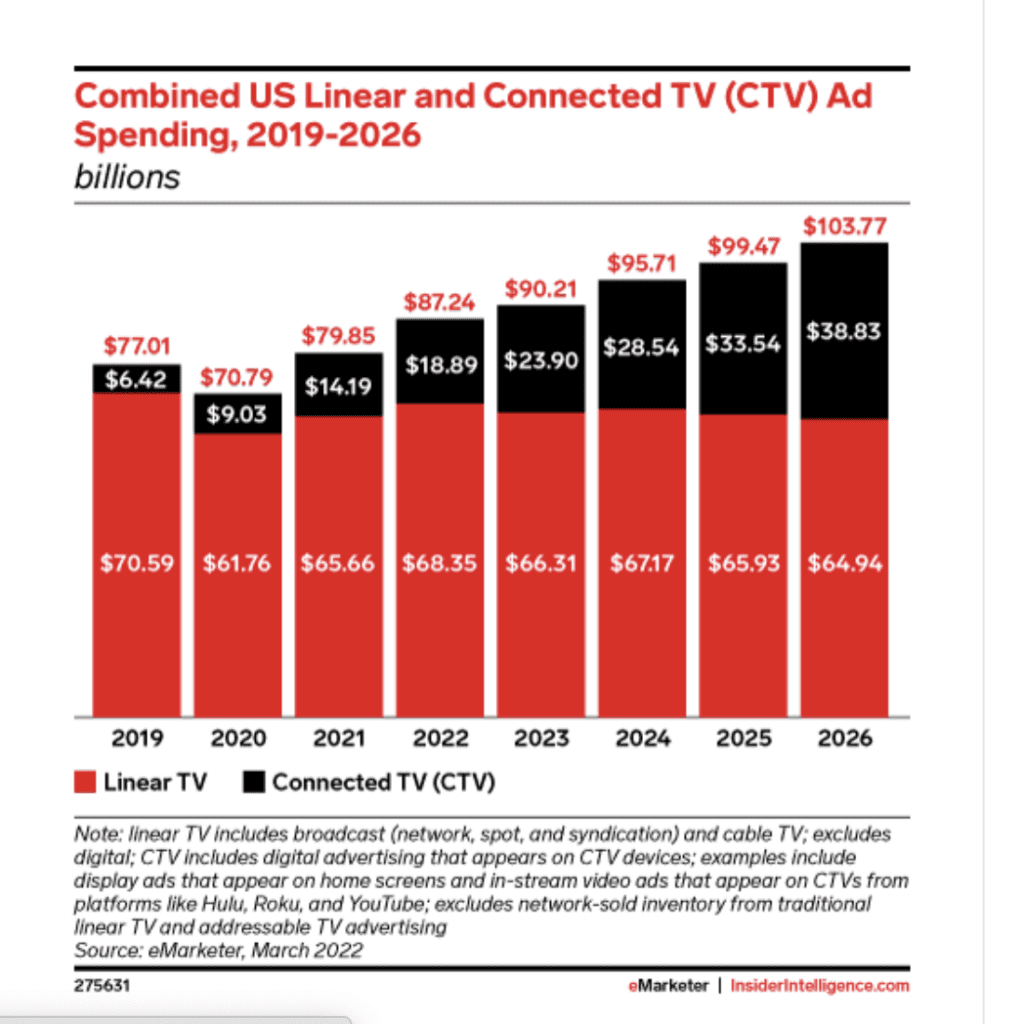 Alternative Identifiers are Showing Their Value
The Adapex team was at Cannes Lions a few weeks ago and everyone was talking about identity. Many companies are starting to see exciting results using first-party IDs and other non-cookie identifiers.  And while continued testing is imperative, there are some very good results out there.
On our end, we are seeing CPM uplifts of 20-60% on authenticated and identified inventory, as well as improvements in fill rate wth our publishers using Magnify™, our identity connector.
Conclusion
There is no denying that we are working through challenging times.  But Q3 is here, Q4 is coming, and there are year-end goals to be met.  Here are a few tips from the Adapex team to help grow your revenue.
Implement a performance-focused tech suite

Header bidding increases competition for your revenue, especially key in periods of decreased spend

Realtime analytics allow for immediate and ongoing optimizations

Make a plan to maximize your data and grow revenue without 3rd party cookies

Schedule a free site audit 

Our team can help identify opportunities for immediate uplifts

Do you have CTV inventory?

We are seeing more demand than supply and have a CTV header bidding solution

Advertising Flight to Quality

Focus on your content, user experience, and identifying the value of  your audience 
Adapex is here to help.  We work with over 1,000 publishers and content producers to ensure they are growing their revenue in any situation or season.  Our award-winning m4 Tech Suite™ provides all the tools you need to optimize your site and drive revenue.