It appears that the dust is beginning to settle as we wind down 2Q. So just a quick update this Friday as we check in on CPM trends for the week and the latest news.
Ready for the Rebound
Magna Global has revised its ad spending forecast for the rest of the year and 2021.  Overall ad spend across media is expected to decline to $213 billion in 2020 from $224 billion in 2019.  But the good news for us is that digital advertising is now projected to grow 2% year-over-year, and digital video expected to grow 10%. 
Most buyers will increase the amount spent on digital channels during the second half of 2020 compared to the prior year.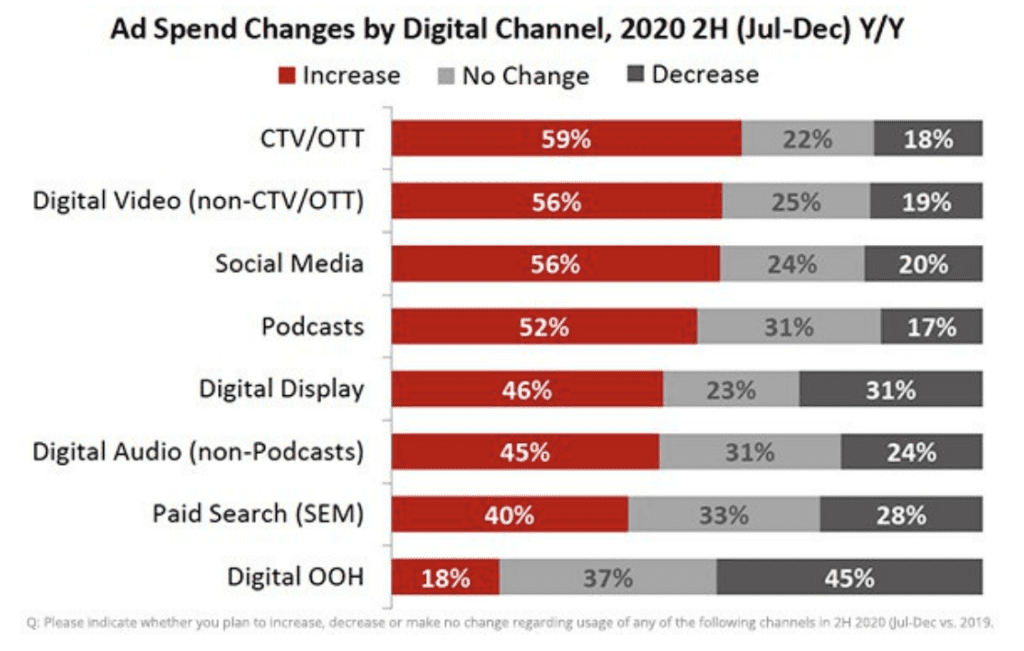 And three TV networks, ViacomCBS, Fox Corp, and Discovery, saw spend recovering in May and continuing into June.  This is an improvement over the projected 15% decline and welcome news for the TV advertising segment which has been particularly hard hit by the pandemic.  Overall, it is expected that US ad spend will stabilize in the second half of the year and rebound in 2021 with 4% gains.  
Pubmatic Update to COVID-19 Impact to Ad Spend
Pubmatic has updated its data on COVID-19 impact on global ad spend and while spend remains 13% below pre-pandemic levels, several categories are seeing increases Month-over-Month. Travel, Pets, and Real Estate are leading the way as the US begins to open up and domestic tourism and the real estate market are bouncing back.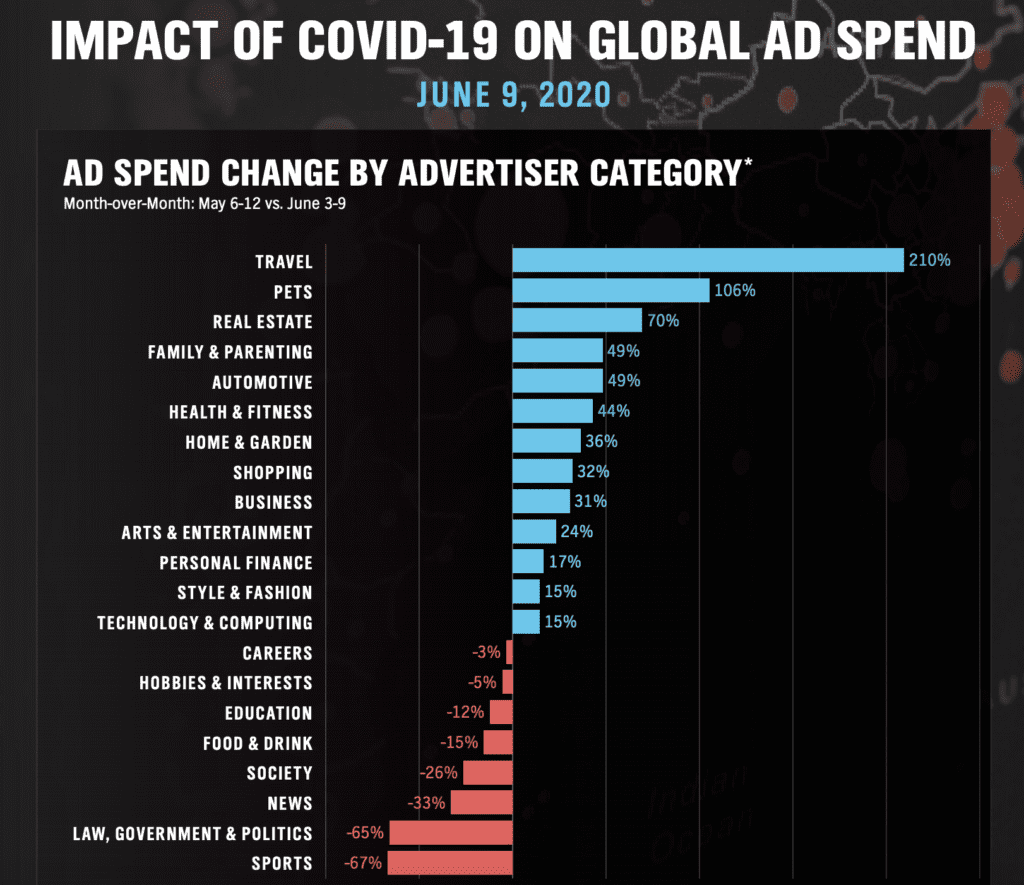 Spending by Publisher vertical is led by Sports, Travel, and Automotive.  And spend across all formats is up.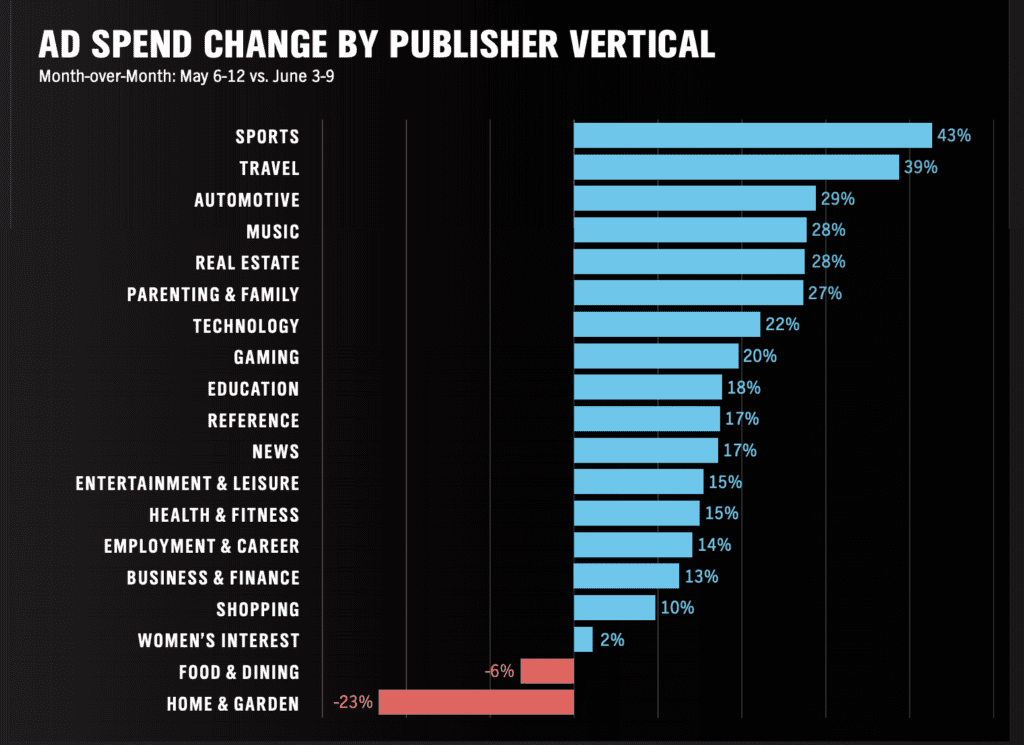 Adapex CPM Trends Week of June 15
Looking at Adapex CPMs for the week, we are climbing but overall not quite back to pre-pandemic levels.  Though, Mobile CPMs are strong and hovering near year-ago mark.  The Health category showed a 15% uptick in CPMs vs same time last month but we are seeing weekly fluctuations in other categories like Travel and Finance.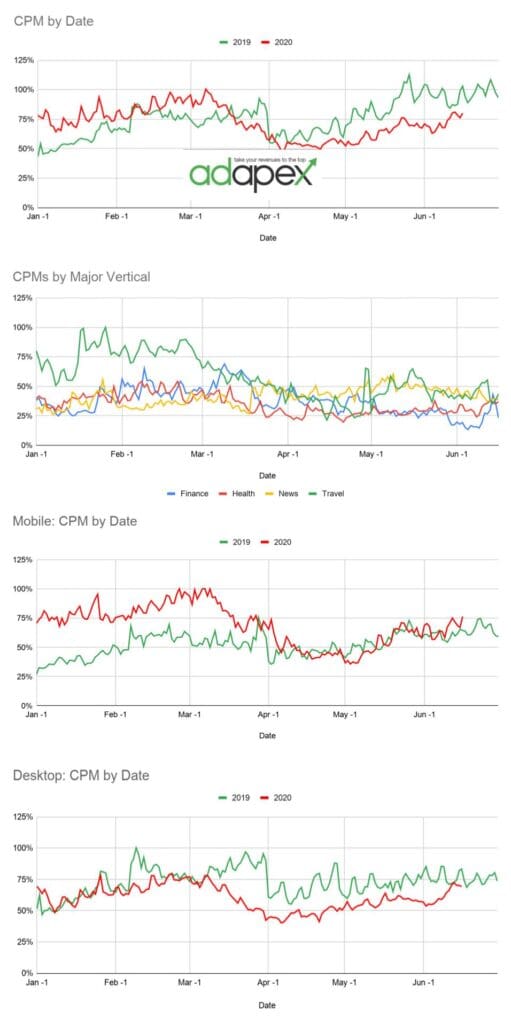 Keep Moving Forward
With the ad market stabilizing and CPMs recovering, it is important that publishers turn their attention to important housekeeping tasks.  
CCPA is in effect and with July 1 around the corner, fines could be issued for non-compliance.  (Check back next week for our updated blog post on CCPA and analysis of CMP solutions.)  
Work on improving your monetization strategy to compensate for COVID-19 impact on CPMs
Video! Video ad spend is rising, go after video CPMs with outstream and video header bidding
Adapex is always available to work with you to make sure your site is optimized for monetization.