Labor Day Weekend is here and we are still seeing a bit of volatility in CPMs and ad spend.  MediaRadar reports that through the end of July, total programmatic spend grew 11% since April, and the number of advertisers running programmatic ads increased 36% since January.  We can feel some relief as we look to the end of summer and ahead to Q4 knowing that we have likely come through the worst of the pandemic.
Adapex CPM Analysis Week of August 31
End of the month, or the beginning of Q1? Definitely ongoing volatility. Overall, CPMs WOW were down by 4%, but in looking at our four main verticals, News and Travel came out shining. Trust us, we triple-checked these numbers, it's real. Hard to make sense of anything these days.
News CPMs improved by 41.20%
Travel CPMs improved by 39.77%
Finance CPMs improved by 3.06%
Health CPMs dropped by -3.78%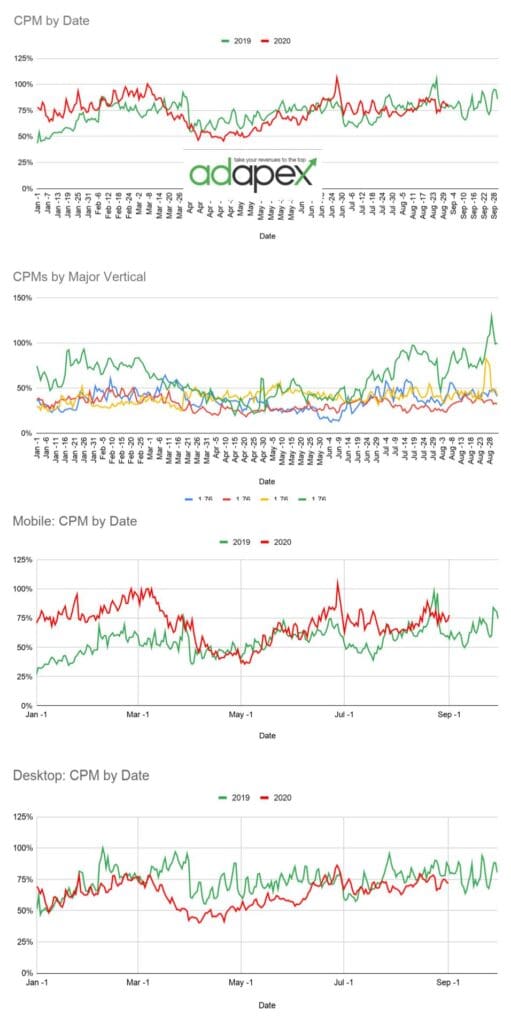 Looking Ahead to Q4
Adapex is working closely with our publisher partners to make sure they are well-positioned to accelerate revenues in Q4.  Follow us here as we will be discussing ways to improve your monetization strategy.  We will be updating you on AMP, tips to prepare your ad stack for Q4, and other trends that affect your revenue growth.   In the meantime…
Adapex can help accelerate your revenue growth. Read here to see how we worked with Inquistr.com to grow its revenues by nearly 200%.  Let's work together to devise the best monetization strategy for your site.  Sign-up and let's get your adops done right.