A few members of the Adapex team attended the in-person(!) IAB ALM in NYC last week.  The event theme was Visions and Decisions and featured four days of full agendas available in-person and virtually.  The event was well attended by brands, publishers, agencies, and networks.  Huge kudos to IAB for such a robust agenda on the future of an ad-supported internet and bringing the industry together.  It was evident that everyone is ready to network again.
It was no surprise that privacy and identity dominated the discussions.  The industry is at a crossroads and every business has skin in the game and revenue at stake. And monetizing in an omnichannel world makes it all the more complex. The meeting presented a call to action for all constituencies to work together, advance past discussion and do something.
Here are some key takeaways.
Consumer Experience is Key
It is in everyone's best interest to put the consumer first.  Cater to their interests and monetization will follow.  There has been too much abuse of data; consumers are fed up and it's time to get serious about fixing the relationship.
What data do we really need?

Use data to really understand your user's intentions, motivations, and interests in a privacy-safe way

Explore context, cohort, and deterministic strategies

Educate consumers about value exchange…data for content, personalized experience

Fix re-targeting and over frequency issues that are eroding trust and alienating users
Content is King
The ecosystem is united that content is king and an ad-supported internet is still the best internet. Everyone benefits from free, accessible content, and personalized experiences.  And we all need to work, collectively, towards a sustainable, ad-supported ecosystem.
The Omnichannel Future is Here
It can't be said more clearly than that.  Consumers take a multi-device journey and have expectations for rich, customized, curated experiences at every touchpoint.  This presents huge challenges for consent-based, privacy-centric targeting and measurement, but also huge opportunities.  Now is the time to work towards universal, scalable measurement standards. 
State of Data 2022
According to the IAB report, the industry is aware but not prepared for the loss of third-party cookies.  With $10 billion in sell-side annual revenue at stake (sources: McKinsey, 4/12/21; IAB and Deighton Associates, 2/10/20), it's time for collective action.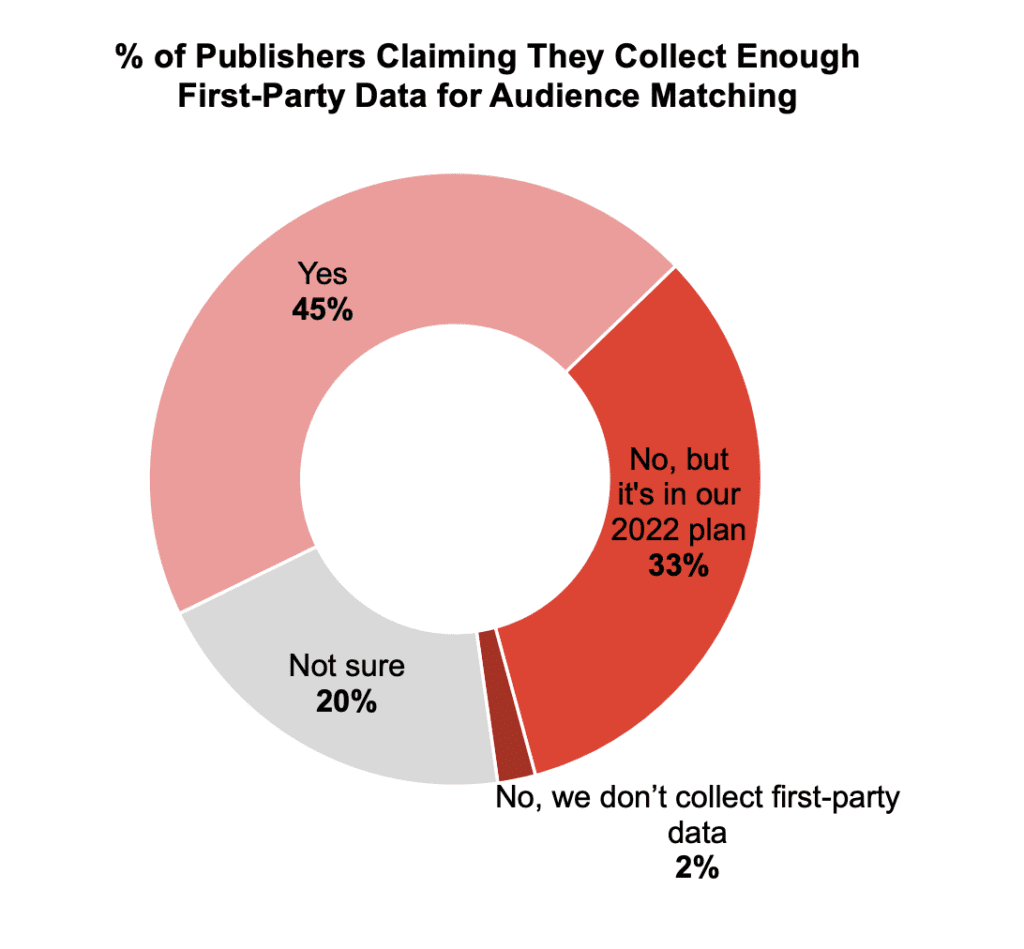 What's a Publisher to Do?
Don't panic, but it's time to move.  Make sure that you are part of the collaboration, working with your partners, upgrading your technology, and testing solutions to find what's best for your content monetization. After listening to multiple presentations, conversations, and panels at IAB, here are some things to think about.
 Your first-party data is important. 

Create value in delivering personalized, privacy-centric media and experiences. 

Clearly convey the benefit of a trusted, protected relationship to your user. 

Create high-quality content

Implement technology that helps preserve your user's privacy.  

Understand behaviors (not identity) and how that translates into your audience.

Increase investment in first-party data, AI, and other identity solutions.  

Implement the tools and technology that will allow for measurement in the post-third-party cookie and identifier ecosystem.
If you need us, we're here.  Adapex helps over 800 publishers monetize their content on every channel: display, mobile, in-app, and CTV.   We're testing multiple identity solutions, including AI, to help our partners survive in a cookieless era.  Reach out any time.