Spending Spikes in Q4
In our recent post about prepping for elevated Q4 spend, we gave actionable recommendations for making sure you drive as much revenue as possible during the Q4 season of peak ad spend.
As advertisers increase spending at the end of the year and really ramp up in December, you want to make sure your site is positioned to accelerate your revenue during this time.  Consumers spend more around the Holidays, even in down economic cycles, and advertisers follow suit.
Ad Spend Growth by Industry
eMarketer looked at 10 industries to see which will grow their digital ad spending and by how much. Publishers should pursue direct deals with top advertisers, particularly within the verticals that are growing their YoY ad spend.
Demand for Mobile and In-App Inventory Drives Higher CPMs in Q4
Historically, Adapex publishers have seen mobile CPMs soar towards the end of the year.  Ensure you use a true in-app header bidding solution to optimize yield.  A header bidder built specifically for in-app should drive your revenue by +60-200%.
CTV
IAB reported that Connected TV (CTV) ad spend increased 57% in 2021 to $15.2B and is expected to grow an additional 39% in 2022 to $21.2B. Between 2020 and 2022, CTV ad spend is projected to more than double. (+118%). 
Like in-app, CTV presented unique challenges for header bidding. But a header bidding solution for this channel is essential to maximizing revenue potential.  CTV should be top of mind for all publishers with video content. 
Identity Strategy
If you're not already, start testing alternative identity solutions and getting your data in order.  Despite, Google's delay in ending the use of cookies, consumers are demanding privacy adherent experiences.  Getting ready now will lead to big payoffs down the line as the ecosystem undertakes a big shift.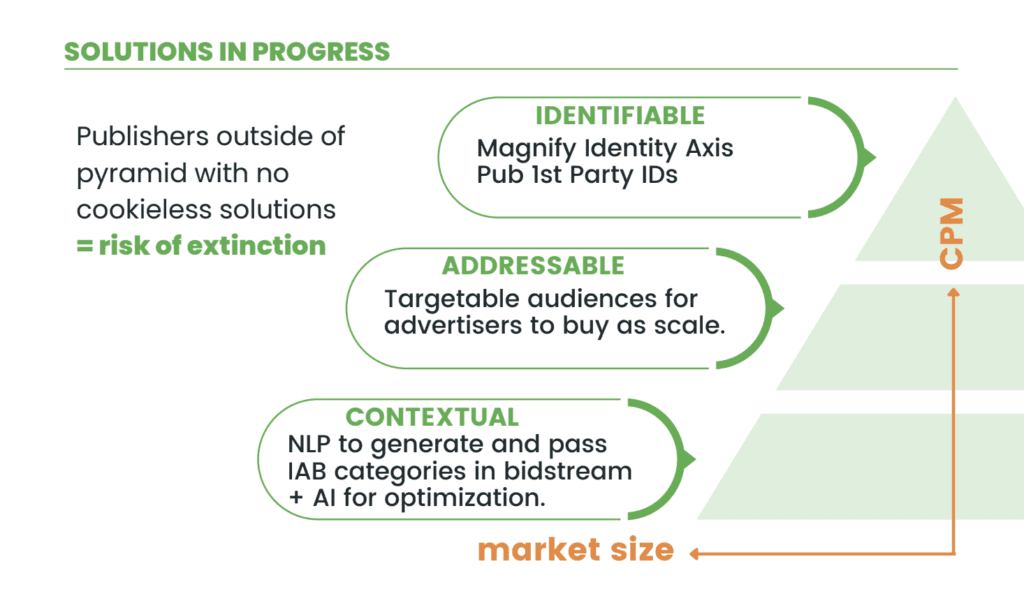 Conclusion
At the end of the day, maximizing your revenue really comes down to your technology.
Header bidding for every channel to maximize demand

Real-time analytics for easy, ongoing optimization

Connection to top identity solutions 

Targetable audiences 

Contextual

AI-enhanced targeting

First party ids

Data Preparedness starts here
Let us know if we can help!  We work closely with our publisher partners to ensure that they are maximizing revenue on every impression.