Spending Spikes in Q4
In our recent post about  preparing your ad stack for Q4, Adapex recapped the categories with the largest percentage of Q4 spend in 2019 according to  Media Radar. In this analysis Retail, Tech, and Media led spending with each accounting for roughly 14% of Q4 spend, followed by Financial and Travel.  
It's no secret that ad spend increases in Q4 around swelling consumer spending and Holiday shopping.  Similarly, advertisers usually increase spend at the end of the month and quarter and really ramp up in December.  Adapex is working closely with our publisher partners to position their sites to drive accelerated revenue growth during this peak time.


Direct Deals Can Boost Your Q4 Monetization
With marketers looking to spend in Q4, there are pockets of opportunity to make up for previous losses in the first half of the year. A reliable way to drive more revenue during Q4 is to pursue direct deals with your top advertisers, particularly within the verticals that have a history of strong Q4 spend, noted above.  
The chart below from eMarketer shows that Programmatic direct will grow 11% this year.  With campaigns currently focused on performance and direct response, direct deals can be more enticing to help advertisers realize their ROI.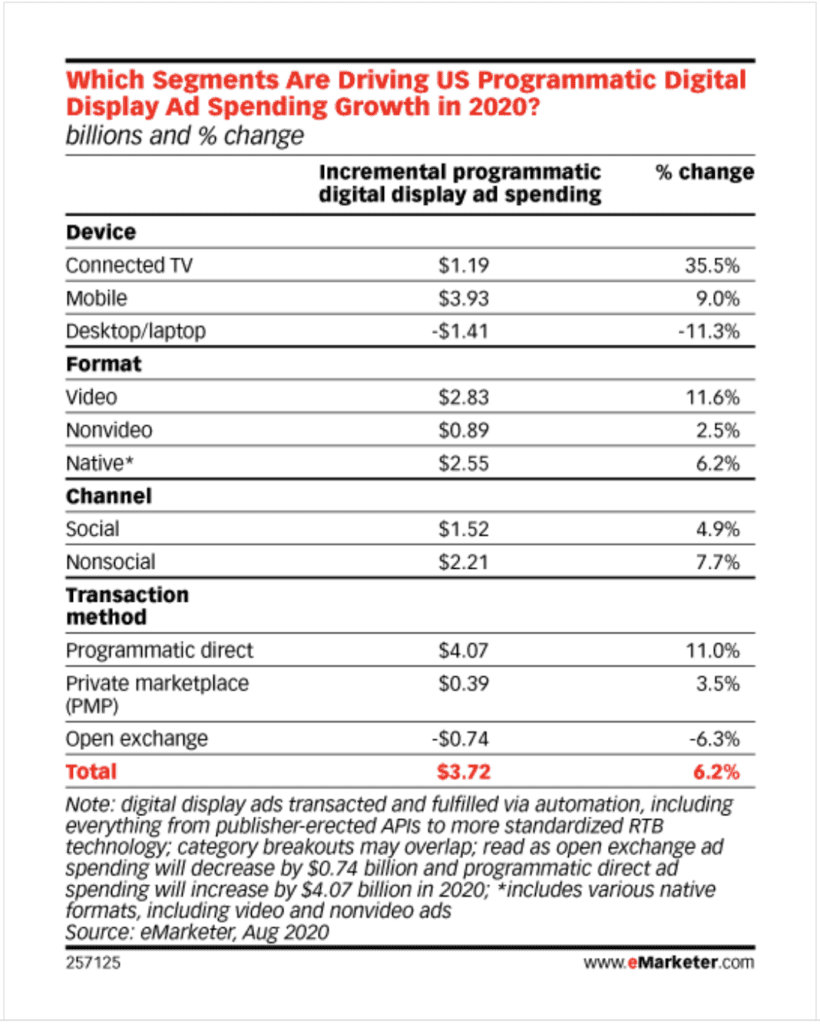 Throughout Q3, Adapex has seen our CPMs in most verticals fluctuate from week to week as ad spending stabilizes post COVID-19 impact.  However, the last few weeks have shown positive growth across the board and we are looking towards a particularly strong Q4.
Currently, advertisers are spending money on Sports, News, and Lifestyle content. Publishers are wise to be strategic in developing content that will attract advertisers to direct deals for this inventory.
Demand for Mobile and In-App Inventory Drives Higher CPMs
With growing consumer consumption of mobile content and more time spent with apps, mobile and in-app inventory are commanding strong CPMs.  Adapex publishers have seen Mobile CPMs surge past 2019 levels, especially in the past month.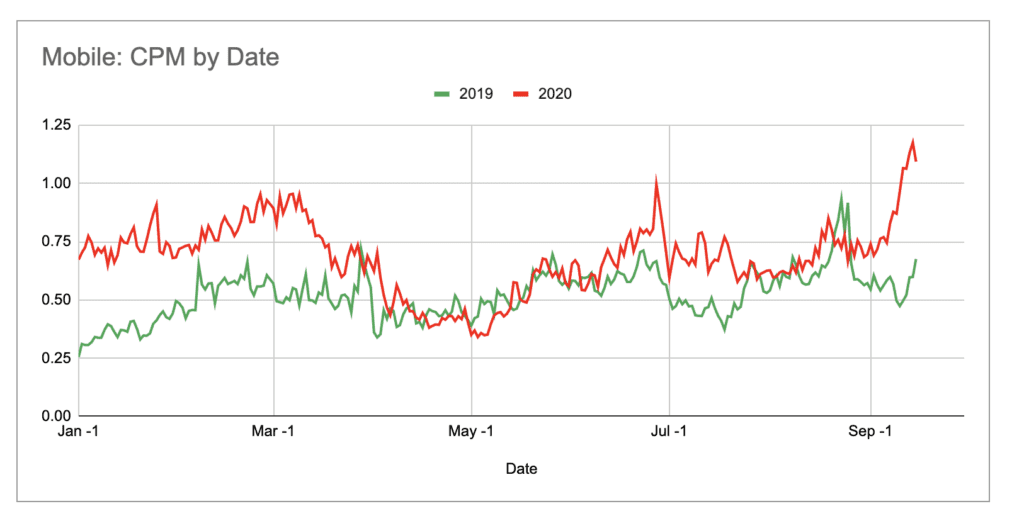 Q4 is an opportune time to position your site to accelerate mobile revenue. Adhering to a few key mobile monetization strategies can help publishers land a bigger piece of the pie.
Likewise, improving your in-app monetization strategy will help grow this revenue stream.  Our previous posts on these topics provide actionable insights to drive your revenue.
Adapex is always here to help.  Our team has the experience and expertise to help publishers grow their revenues not just in times of peak spending but also during the leaner months.  Let's work together to accelerate your yield in Q4 and find the opportunities to optimize your monetization.  Sign up to get started right away.  Or we can do a  free site audit.  Don't wait, Q4 is coming and the time is here to skyrocket your revenues.