Now that Q4 is here,  there is a huge opportunity to maximize your revenue with a few actionable tips.  Advertisers are gearing up for increased consumer spending around the Holiday season and the end of the year.  As in Q4 2020, many shoppers will be online.  Buyers will allocate more of their budget to programmatic in order to reach online audiences.  
Spending Spikes in Q4
Advertisers follow their consumers and spending will start to spike and really ramp up in December.  The Adapex customer success team is working closely with our clients to  tweak their sites to drive revenue growth now.  We recommend other publishers do the same to make sure that they get their piece of the pie.
PMPs and Direct Deals
Look for opportunities to pursue direct deals with your top advertisers.  Direct deals can be more appealing to advertisers who are focused on performance and direct response.  
Focus on seasonal content that will boost traffic and attract marketers looking to reach Holiday shoppers.  Take a look at your inventory and see what worked well last year.  According to eMarketer, most industries will increase their digital spending by at least 10% this year, led by Retail, Consumer Product Goods (CPG), and Financial Services.
Entertainment will grow the fastest with a projected 37.2% increase in digital ad spending.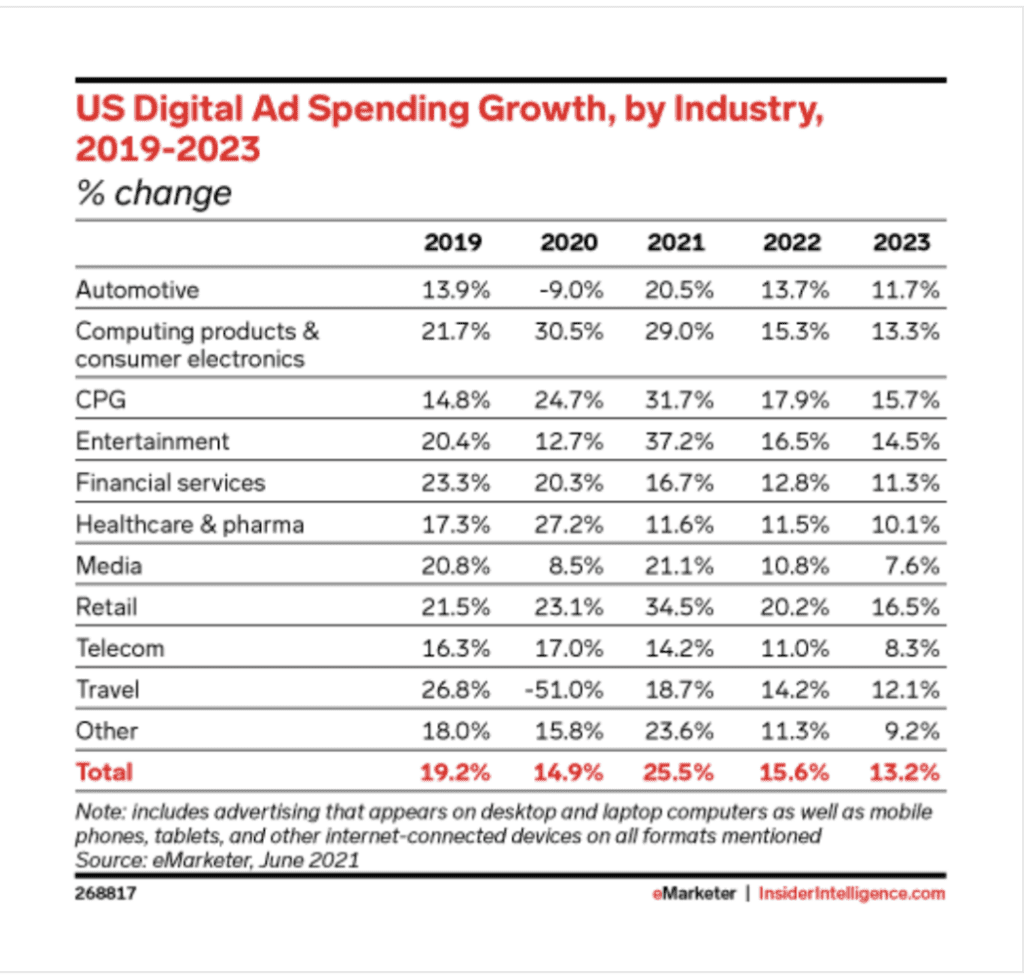 Optimize Ad Units and Page Layout to drive CPMs
Analyze and prioritize your top-performing ad units

Optimize for viewability:  increased viewability = increased CPMs
Utilize high performing ad units and formats, including high impact rich media units
Alternative Identifiers
While the cookie is still a targeting option this year, advertisers are testing identity solutions. Publishers who have activated alternative IDs could find incremental revenue.  
Adapex is partnered with ID5 and Liveramp to bring their ID solutions to our clients to test yield. And is also beta-testing our AI-driven solution for first-party data and attribution, as well as others to prepare our publishers for a cookieless future. The newest component of our m4 Tech Suite™, Magnify™, offers seamless integration to leading ID providers.
Focus on Key Metrics
CPMs are important when it comes to your revenue but this metric usually means more to the advertiser.  To really increase your monetization, look to improve your revenues per session (RPS).  Increasing this KPI directly correlates to increasing your revenue. 
Improving RPS comes down to delivering a good experience to your user and keeping them engaged on your site: good content,  strong core web vitals, and a comprehensive, reliable tech platform.
Check Your Tech
Although now is not the time to be making significant changes to your website, you can not maximize your revenue if your technology isn't right.  Ideally, you are using a hybrid header bidding set-up to maximize competition and fill.  Make sure you are also taking advantage of all the features available in your header bidder wrapper.
For example, Adapex clients using Merlin™, our custom wrapper, can take advantage of smart refresh to maximize fill and viewability.  Lazy loading and dynamic ads insert offer benefits like faster site load, higher viewability ratings, and multiple views per ad.  
If you don't have a technology solution that gives you access to analytics, header bidding, an on-page console, and an identity connector, let's talk.  Adapex's m4 Tech Suite™ is a sophisticated but easily implemented, plug-and-play product that gives you access to everything you need to maximize your revenue on every impression.  New clients implementing our tech have seen uplifts up to 500%.   Combine this with hands-on strategy and account management from our customer success team and we can make every quarter feel like Q4.  We'd love to give you a free demo and show you what we can do for your site.